Press Release
Spira Culture House Becomes First Venue in Sweden to Install L-ISA
Spira Culture House Becomes First Venue in Sweden to Install L-ISA...
Venue expands its ground-breaking L-Acoustics sound system to cater to increasing guest productions
---
Jönköping, Sweden – January 2023 – An architectural masterpiece, Kulturhuset (Culture House) Spira is a seven-story glass-and-wood cultural center on the banks of Lake Munksjön in southern Sweden. Opened in 2011, the iconic venue has earned an excellent reputation, hosting a progressive music, theatre, and dance program across its four stages. Focussed on being at the cutting edge of technology, the venue has always installed L-Acoustics audio systems since its inception, so when a new investment opportunity arose, the sound team took the opportunity to fulfill its dream of adopting L-Acoustics L-ISA technology, the first installation of the innovative technology in Sweden.
Comprising a main concert hall, dedicated theatre, smaller capacity black box, and a café stage, Spira's eclectic program welcomes over 800 events annually from renowned orchestras and artists. After upgrading the sound system in Spira's concert hall two years ago with an L-Acoustics Kara II system, it was time to focus on the venue's theatre, which has built its reputation by attracting visiting musical productions, and increasingly more complex in-house productions. Enrolling L-Acoustics Certified Partner Integrator and long-term partner JLE Audio AB, the venue transformed the current L-Acoustics Kiva configuration into a progressive, immersive L-ISA system.
"Spira is now 11 years old and well established, allowing us to allocate a sizeable budget to enhance the theatre's sound system," explains the Head of Sound, Jack Strandberg. "Having L-Acoustics on all the venue's stages, I have absolute confidence in L-Acoustics products. However, L-ISA is not just a system, it's a whole new mindset, and when you explain it to guest directors and engineers, everyone gets really excited. With the recent Kiva upgrade, we were almost there! It was always my plan to invest in L-ISA for the theatre, as, for me, it would complete the system. L-ISA is the final piece in the puzzle."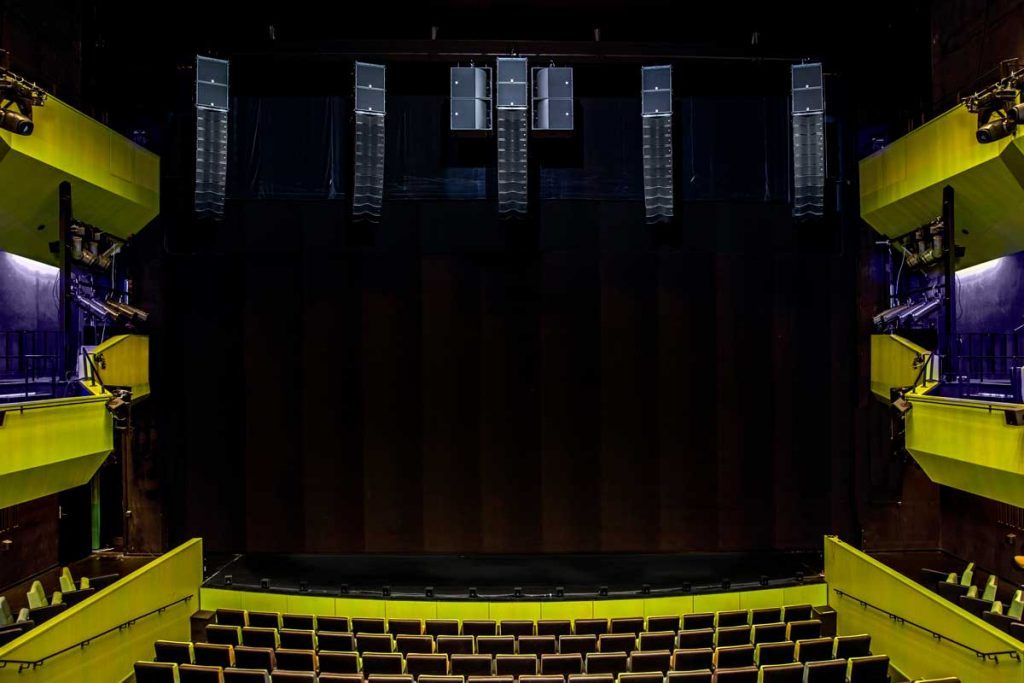 The venue has collaborated with JLE since 2011, involving the company in previous upgrades, including the significant transformation of the theatre's original Kiva system from a simple seven-cabinet stereo system to a more comprehensive LCR one. The latest system evolution involves installing the L-ISA technology suite powered by the L-ISA Processor II, including L‑Acoustics' L‑ISA Controller software.
"I think L-ISA is the most revolutionary technology to arrive in the audio industry after many years. The team is super excited. The possibilities are limitless. It's as if I have been given a new toolbox: I can take a sound and put it in the auditorium anywhere I want. It's truly amazing!" enthuses Strandberg.
As part of the investment, the venue has continued integration of the immersive technology into its Studio, utilizing the room as a pre-production space with the L-ISA Studio software, which features five X8 as the Scene system, six 5XT as Surround, and a floor mounted Syva Sub, mirroring the auditorium configuration and enabling staff and visiting engineers to familiarise themselves with the system.
"As it's the first L-ISA installation in Sweden, L-Acoustics engineer Martin Wurmnest visited the team to deliver an excellent training program once the installation was complete," comments JLE's Johannes Jonsson. "The additional studio install is a great initiative for visiting engineers to get to know the system and a place for sound engineers to practice and perfect their mixes before moving into the main theatre. The more you explore the software, the more logical it appears, and new technicians that aren't familiar with it are getting the hang of it very quickly."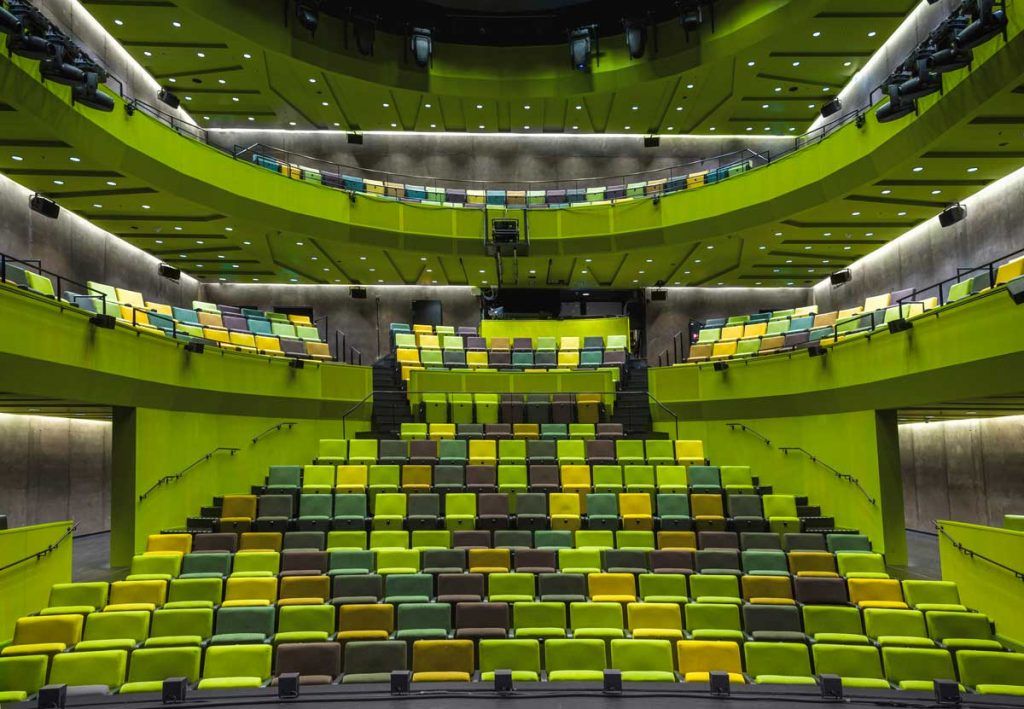 The venue also invested in a BlackTrax real-time tracking and automation stage system and a camera-based 2D and 6D tracking system, fully integrated with the L-ISA Controller, which provides extensive and automatic tracking of actors on stage, aided by the acoustic shaping technology in L-ISA's Room Engine.
"Before L-ISA, I could hear what the actors were saying, but I couldn't see who was saying it," explains Strandberg. "L-ISA's natural positioning is amazing in a production such as a musical with 30 actors on stage. I've worked with tracking systems before but combined with L-ISA's 3D Room Engine, there is a WOW factor!"
For the system's debut show, Strandberg discussed the immersive properties of L-ISA with the writer during drafting so that he could complete his composition with these audio possibilities in mind. The production was arranged as a multitrack with automated commands using QLab project software, which triggered snapshots in the theatre's house console, and sent OSC messages and time codes to the L-ISA Controller.
"It was an outstanding debut, and the production worked flawlessly for 50 shows! We had so many positive comments about the sound quality and innovations from the audience, production team, and the composer, who was amazed at the creative opportunities the system could provide. He noticed elements within his composition, which he couldn't perceive in stereo," Strandberg continues. "L-ISA's sonic clarity is remarkable. Ultimately, that is the reason we invested in this system. The actor is standing on stage delivering a monologue, and every word is heard naturally, even from the second balcony. Then, when you get to use theatrical effects like a thunderstorm, L-ISA's positioning is game-changing and immerses the audience in the show completely. You could forget that it's amplified, and some of the audience even asked if we were actually using microphones!
"Installing L-ISA has fulfilled all my audio ambitions for Spira," Strandberg concludes.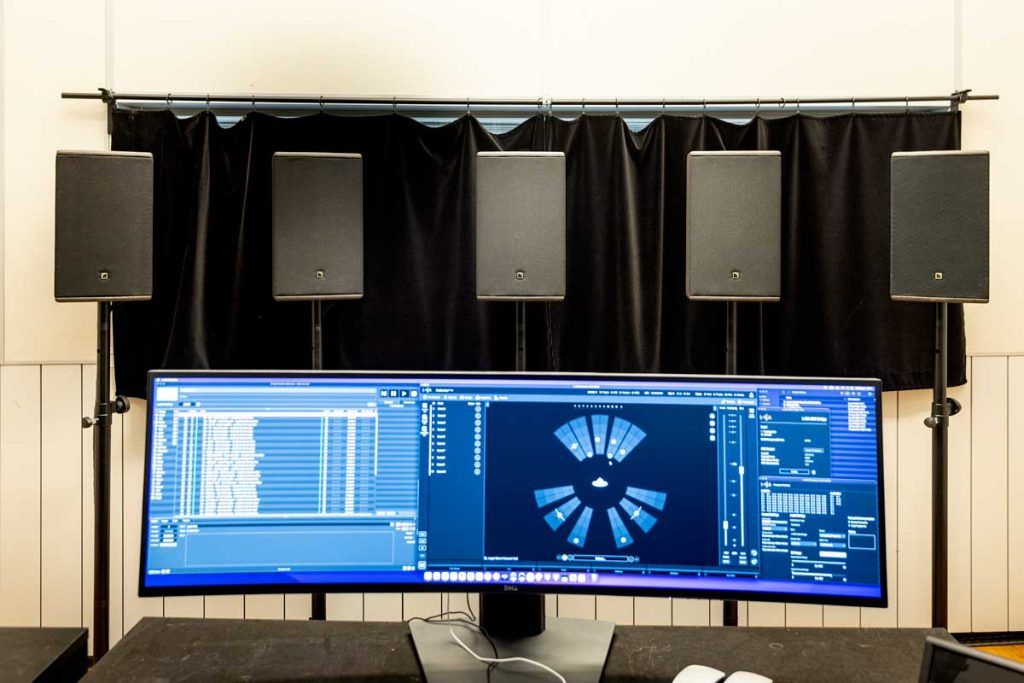 Spira's L-ISA studio is a pre-production space featuring L-ISA Studio software, X8 as the Scene system, 5XT as Surround, and a floor-mounted Syva Sub, to mirror the auditorium configuration.