design
L-ISA Studio
Create 3D audio on your laptop.
Take L-ISA processing anywhere, anytime.
Available on
What is L-ISA Studio?
L‐ISA Studio is a 3D audio software suite that untethers sound creators from the studio, allowing them to mix object-based audio anywhere in binaural on headphones or up to 12 loudspeakers.
"A dream mixing tool"
8.5/10 - FutureMusic

"L-ISA is stunning"
9/10 - MusicTech
"We are very proud to present L-ISA Studio, the ultimate swiss army knife for anyone who creates with sound. Now, your object-based mix and immersive production can go anywhere you go! Your venue, be it real or imaginary, can come with you too. All you need is a pair of headphones and a laptop. Your imagination is the limit."
Sherif El Barbari
Director of L-ISA Labs
A complete software suite for Mac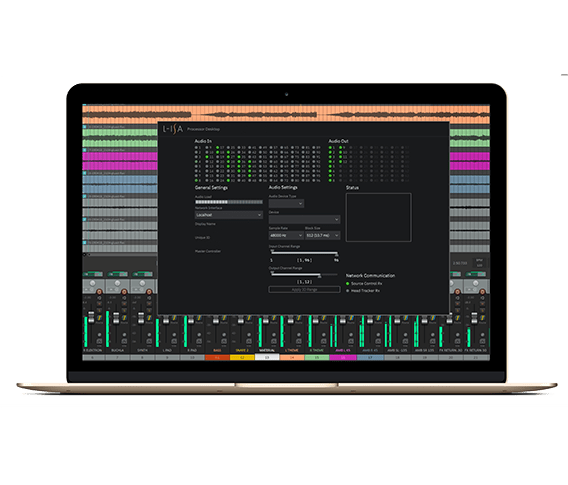 L-ISA Processor Desktop
Get the same spatial audio and room engine algorithms as the L-ISA Processor, on your desktop. Render from up to 96 audio objects (via the L-ISA Audio Bridge) onto 12 audio outputs sent to your favorite soundcard.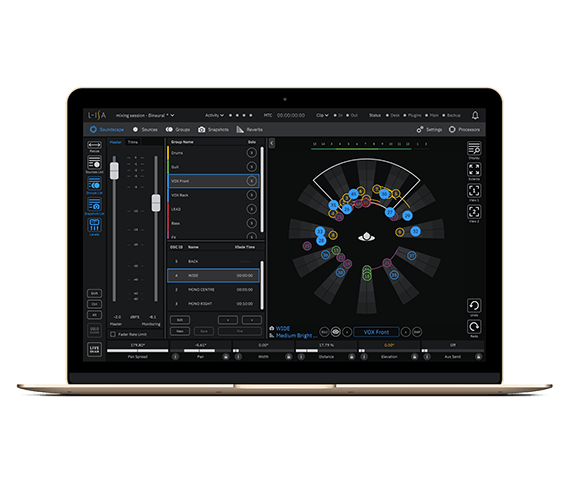 L-ISA Controller
Control audio objects positions and interact with Digital Audio Workstations, Show Control or Games Engines.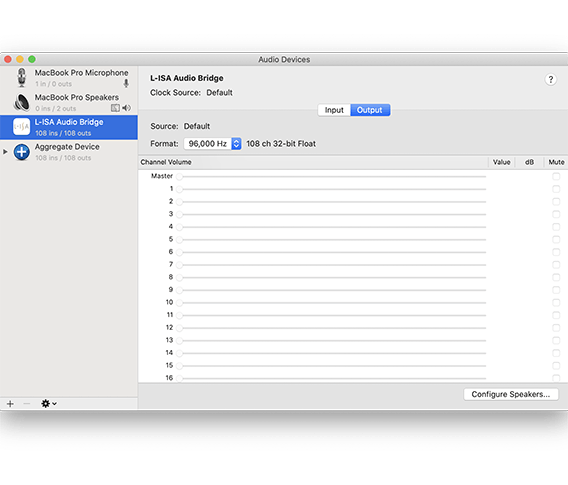 L-ISA Audio Bridge
Route up to 96 audio objects and 12 loudspeakers between your Digital Audio Workstation and the L-ISA Processor Desktop.
Think in 3D, just like with L-ISA Processor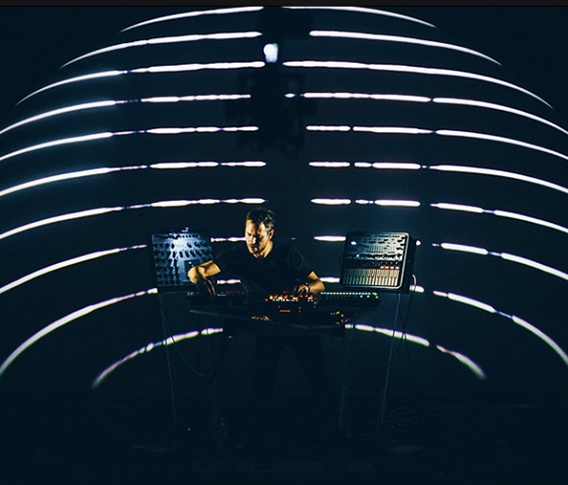 Spatial Processing
Achieve maximum spatial precision and sound quality while preserving the ability to scale to large audiences. The L-ISA's four positioning parameters (PAN, WIDTH, DISTANCE, and ELEVATION) have been precisely designed for this achievement.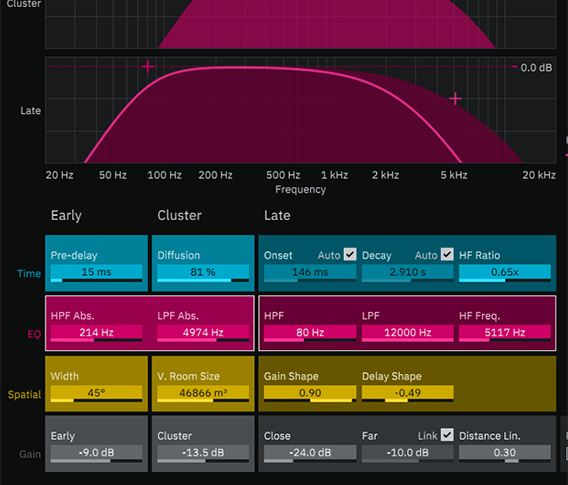 Room Engine
Experience unprecedented level of control and scalability for object-based reverberation and Virtual Acoustics applications thanks to the advanced L-ISA patent-pending algorithms.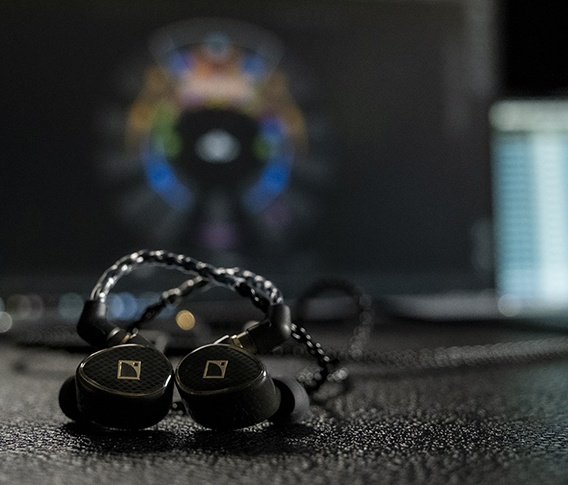 Binaural Monitoring
Hear your immersive mix over headphones with high realism thanks to the L-ISA binaural engine and certified headtrackers.
Pre-production made easy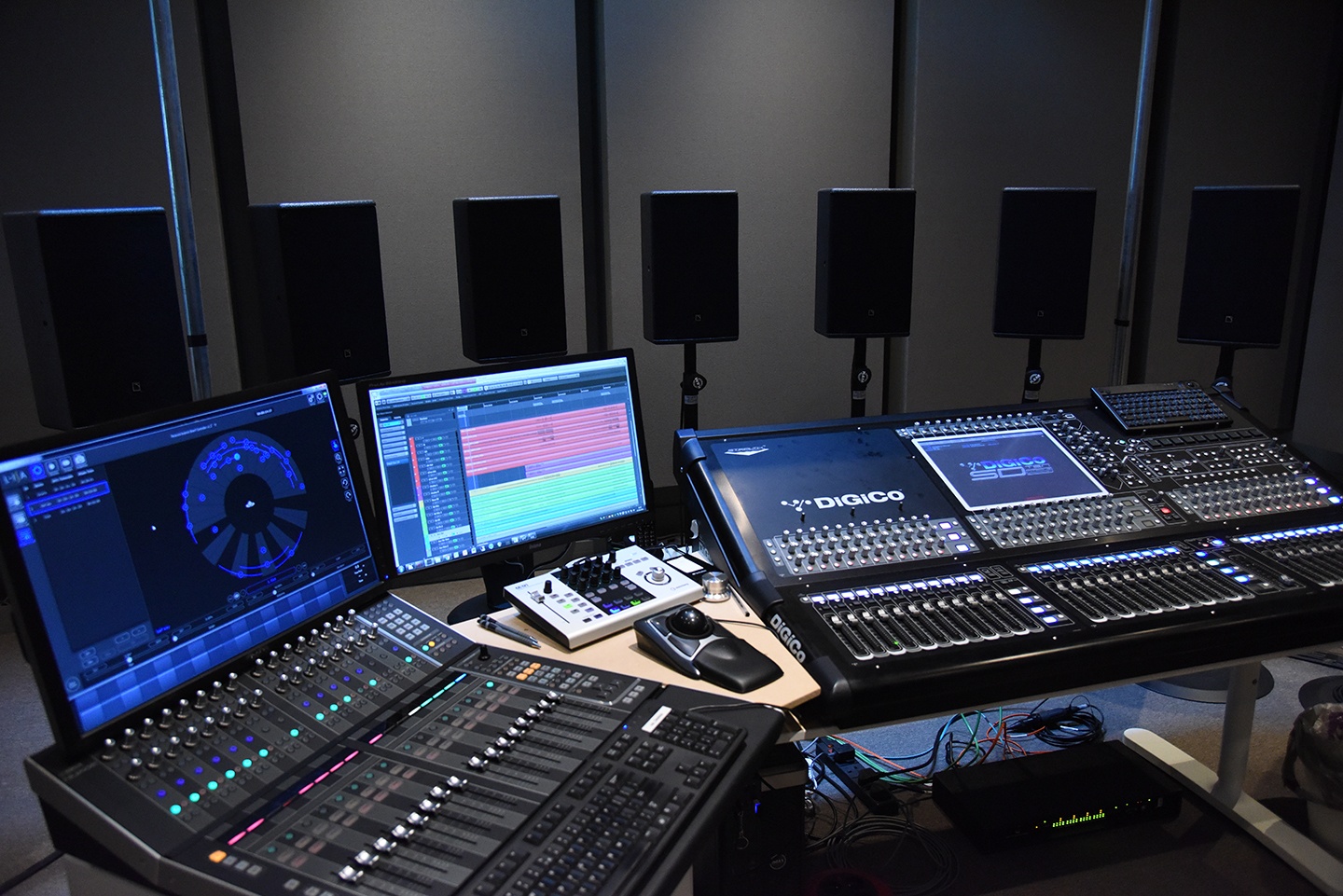 Mix in any studio
Render an L-ISA frontal system, an 8.1 surround configuration or a 3D configuration in a 7.1.4 format via the 12 audio outputs of L-ISA Studio. Get most of the pre-production work done from your studio.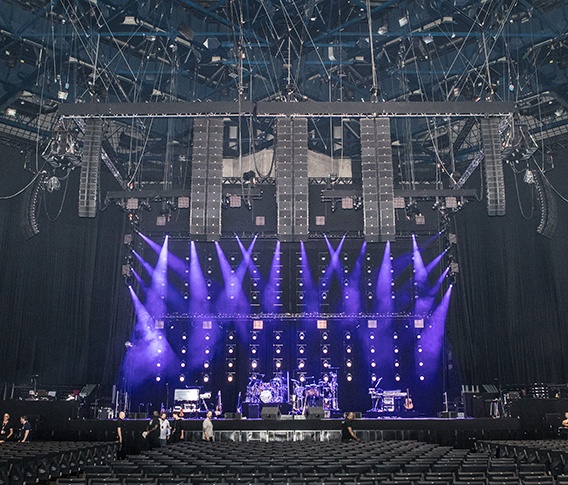 Scale Simulation
Virtually stand in the audience, and hear the concert experience from your studio with the built-in Scale Simulation technology. Adjust your mix by comparing different virtual listening positions.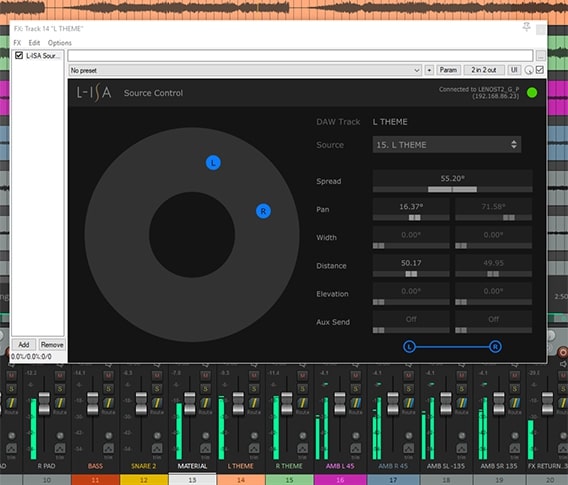 Full control
Connect to mixing consoles, tracking systems, OSC devices, and more... L-ISA Studio provides you with all the control capabilities of the L-ISA ecosystem.
Expand your knowledge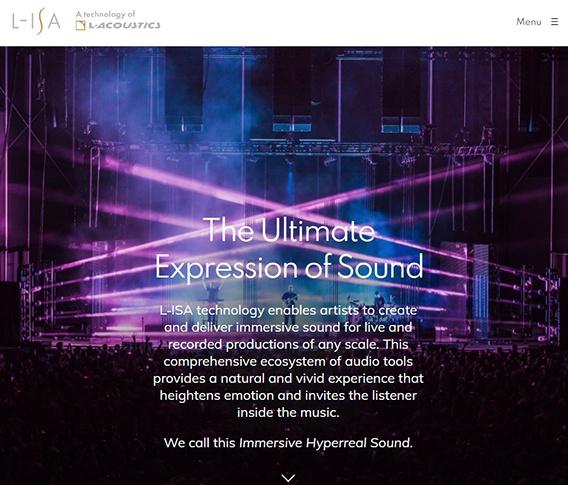 L-ISA Immersive website
Learn more about how to ideate or monitor your immersive mix with L-ISA Studio on the
L-ISA website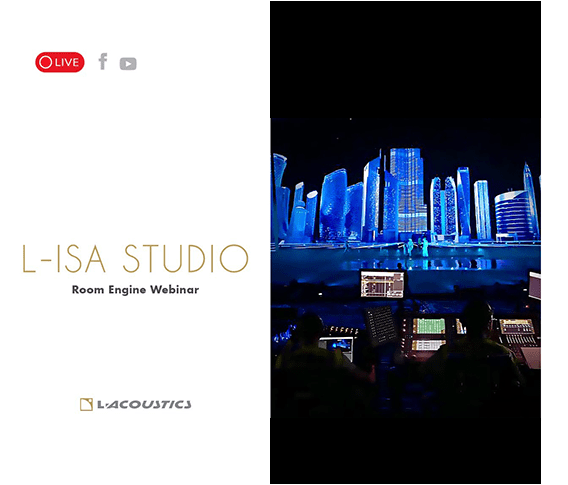 Webinars
Learn more about L-ISA Controller in our series of webinars posted on our
YouTube channel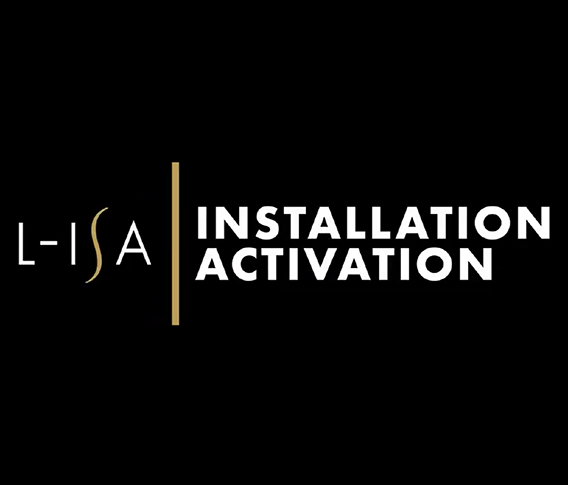 Quick Start
Learn more about L-ISA Studio in our series of "Quick Start" videos posted on our
YouTube channel
Need more information?
Check out our Documentation Center for more documentations on this product.
March 2022
New features in L-ISA Controller v 2.4
L-ISA Studio: L-ISA free license includes binaural outputs using L-ISA Processor Desktop.
A simplified view of Hive open source AVDECC controller can be launched from the Menu bar to connect AVB streams to the L-ISA Processor II.
Configuration Store/Recall:

Available only on L-ISA processor hardware.

Possibility to store up to 20 configurations on the processor.

Possibility to lock each configuration on the processor with a PIN code.

Forgotten PIN codes can be reset by following a challenge procedure with L-Acoustics support.

L-ISA Controller can open a session stored on the processor.

Third-party devices can recall a configuration using REST API. Refer to the L-ISA Processor REST API Technical Bulletin.

Remote operators can recall a configuration using a web browser.

L-ISA Controller or a third-party device can wake up an L-ISA Processor II (Wake-on-Lan command).

Processor can boot from a selected configuration.
Refer to the 
Release notes
 document or to the 
L-ISA Controller Help
 for more details.
Features in L-ISA Controller v 2.3
Support of L-ISA Processor II
Addition of ADM-OSC input format for greater interoperability
Addition of OSC-API for third-party head trackers
Various improvements and optimizations.