Press Release
John Summit Reaches Peak Performance in Colorado with L-Acoustics L-ISA 3.0
John Summit Reaches Peak Performance in Colorado with L-Acoustics L-ISA 3.0...
Unreal-Systems/AgorÀ USA supplied the EDM artist with a concert sound system capable of creating engaging, immersive sound for the crowd in real-time from stereo stems.
---
BROOMFIELD, Colorado – October 2023 – Hailed as one of the most exciting talents in house music today, Chicago native and DJ/producer John Summit has scaled the ranks of electronic artists and successfully paved his own path to the top. This summer, Summit conquered another new height by becoming the first major electronic artist to utilize the powerful new immersive production features of L-Acoustics L-ISA 3.0 on his headlining performance at 1stBank Center in Broomfield, Colorado.
For the show, Miami-based L-Acoustics Certified Provider Unreal-Systems/AgorÀ USA deployed a loudspeaker system consisting of five Scene arrays of 12 K2 over two Kara II downs, flanked by a pair of Extension arrays comprised of 14 Kara II each. Four A15 per side—two Focus over two Wide—served as far out-fill hangs. A dozen KS28 subs were flown in the center, six per hang in a cardioid configuration, anchored by 12 more on the ground in front-firing center stacks of two for additional near-field low-frequency reinforcement. Kara enclosures delivered front-fill to those close to the stage. Onstage monitoring was accomplished via the now-ubiquitous "Texas headphones" of four Kara II over an SB18 sub on either side of the artist. Additional monitoring for a VIP party onstage was provided by several A10 fills.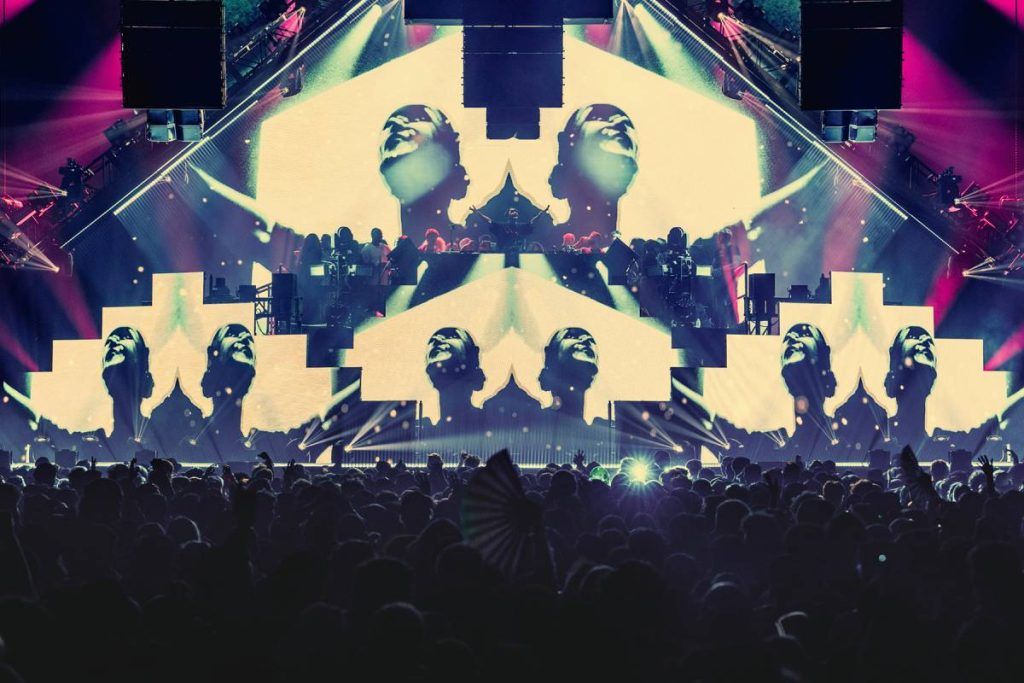 The challenge of this production was to take a show that would otherwise be done in stereo and turn it into an immersive event, creating a dynamically enveloping environment from a left-right feed. To accomplish this, FOH Engineer Joe Spitzer teamed up with L-ISA Application Project Engineer James Rudder to develop several stems from Summit's LR signal—a task that involved changing the filtering to create something that wouldn't interfere with the bass left-right system, as well as altering various trajectories and pan spreads. These were put on separate stereo channels that were brought in and out and manipulated by Spitzer during the show from FOH using new automation tools incorporated in the L-ISA Controller.
"Jordan [Vogel, tour manager] and I spoke many times about the content delivery and John's creative process prior to this show, so I had a general roadmap of where we wanted to go," recalls Spitzer, who was mixing Summit for his very first time on this show and system. "For the 1stBank event, John performed as a more traditional DJ, utilizing Pioneer CDJs and a V10 mixer. We didn't use any multi-tracked content; it all came to my DiGiCo Quantum338 console through the main LR output of the V10. We then duplicated that same LR multiple times into the desk, landing at five instances of the same LR, which allowed us to create a more dynamic, spatial, and dramatic mix. The 'home-base' channel was the V10 mixer LR output, which had a little bit of compression and channel EQ that fed the L-ISA Processor, not as a pair of objects, but right into the new Stereo Mapper engine, which is a very powerful feature in L-ISA 3.0. The other instances were considered 'EFX' or 'effected' channels, which I then used to create ambiguity and dramatize the large builds and tense moments throughout John's set."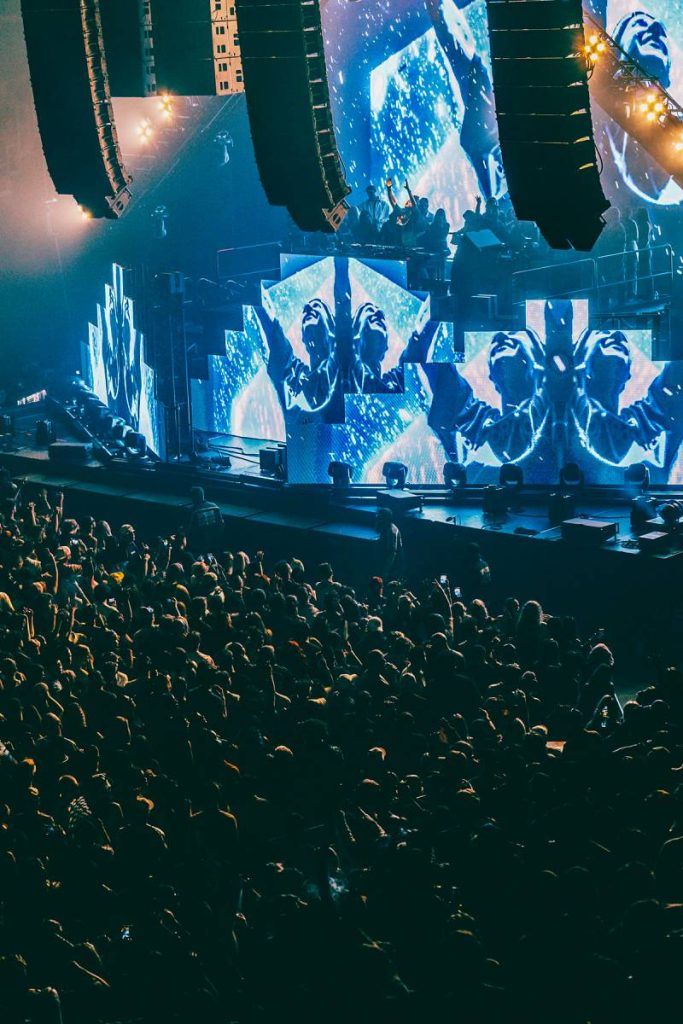 Spitzer notes that the show would not have been as engaging without L-ISA 3.0. "Stereo Mapper was the heart of this show and, just by itself, significantly elevated the listening experience for the audience by utilizing the HF resources of hangs two and six, but all of the LF resources of hangs two through six," he describes. "Low-frequency coverage was incredible as you walked left to right, without the peaks and valleys usually experienced with traditional LR arrays and subs."
"The EFX engine was also very crucial," he adds. "A popular workflow I found was applying an LFO bounce, pan, or random jump on one of the affected LR channels. Tap Tempo also allowed me to synchronize this movement with the pace of the music. So, once we got to the heart of the build, the affected channel physically moved all over the scene, creating a very dramatic effect. Once the drop hits, that affected channel is dropped, the home base comes back in, and we are back in Stereo Mapper, and everybody's dancing!"
Typically, an FOH engineer's function is to simply capture and reinforce what's happening on stage. But in this case, Summit and Spitzer uniquely worked in tandem—the EDM artist focusing on generating his sonic content and connecting with the crowd, and the engineer spatially exploding that output and creating panoramic movement and other treatments. In essence, the audio portion of the show became more of a two-person performance.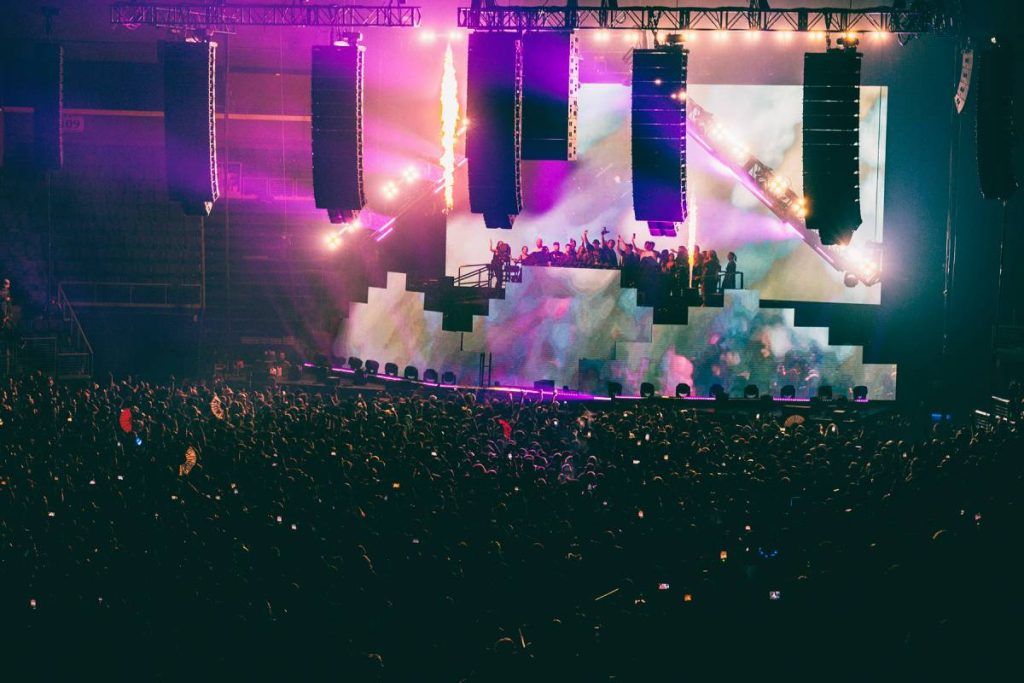 Feeling like he was able to help accentuate and elevate the artist's performance throughout the night was Spitzer's favorite takeaway. "John's music is already very dramatic with a lot of movement and stereo imaging, and being able to take these elements into an immersive environment where I know almost all of the audience is experiencing the same spatial mix that I am was incredible."
Tour Manager Jordan Vogel concurs: "I feel like we're just starting to scratch the surface of how we can better connect DJs and electronic performers with their crowds—the possibilities seem endless," he enthuses. "L-ISA's ability to allow a front-of-house engineer to work and riff alongside the artist, joining in on the process of creating a sonic landscape is a really special thing. Our audiences aren't there just to see John Summit—they come to dance and have a good time with him—and this technology helps them feel like they're truly a part of that experience. After hearing how great this show sounded, I imagine it won't take long to see L-ISA become a common addition to the DJ performance world."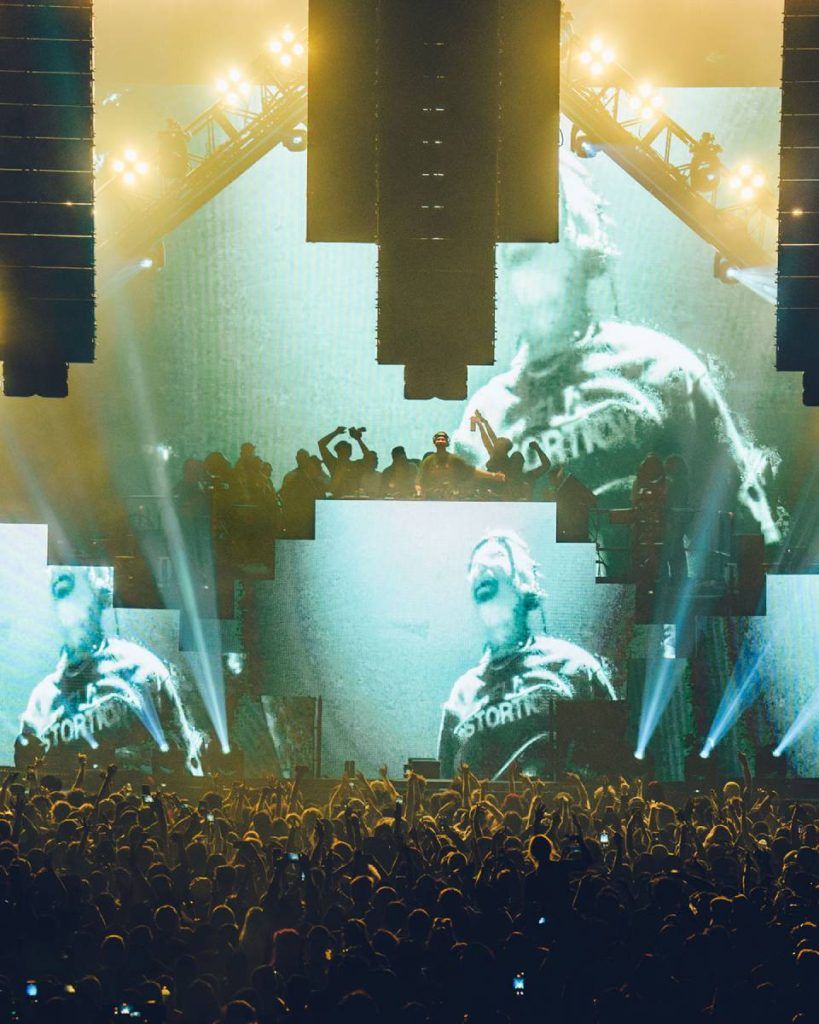 The following night, Summit staged another performance at Red Rocks Amphitheatre, just 20 miles south of 1stBank Center, but used a traditional LR system there instead. "After experiencing and mixing in L-ISA with Stereo Mapper, the difference in going back to a traditional dual-mono LR PA was jaw-dropping," Spitzer shares. "I was so used to the coherency in the low-mid of L-ISA, not hearing the peaks and valleys of the negative interference and comb-filtering between left and right, which I instantly heard when we fired up the PA at Red Rocks. It was no fault of the PA or the crew there; it's just the inherent physical limitations of a LR deployment. Psychoacoustics are fascinating in the sense that you know when something really sounds good when you have something to compare it to, and I have to say that L-ISA has definitely spoiled me for good!"
For more information on John Summit, visit www.johnsummitmusic.com. Unreal-Systems/AgorÀ USA can be found online at www.unreal-systems.com.