Press Release
Jakarta's Graha Bakti Budaya Theatre Revitalized with L-Acoustics L-ISA Immersive Hyperreal Sound
Jakarta's Graha Bakti Budaya Theatre Revitalized with L-Acoustics L-ISA Immersiv...
PT Gracia Auvindo design and install an A Series-based L-ISA configuration for the largest theatre hall in the Taman Ismail Marzuki cultural arts complex
---
Jakarta, Indonesia – February 2023 – The Taman Ismail Marzuki (TIM) arts and cultural hub in Cikini, Central Jakarta, was inaugurated in 1968. Named after a nationally renowned music composer, the hub is managed by the Jakarta Arts Council. The TIM complex began with a lone 90-meter-square building and now occupies a sprawling nine-hectare park ground that includes the Jakarta Public Library and the Jakarta Arts Institute, which also contains a planetarium, an open-air auditorium, art galleries, community spaces, and performance theatre halls of which the 954-seat Graha Bakti Budaya theatre is the largest space. The stately venue hosts performances weekly, from original Indonesian artistic performances to concerts, dramas, traditional and contemporary dance, and film screenings.
TIM and the Graha Bakti Budaya Theatre recently finished a US$125 million revitalization program, including an L-ISA Immersive Hyperreal Sound upgrade, making it the first-ever venue in Southeast Asia to be installed with the technology.
Local L-Acoustics Certified Distributor PT Gracia Auvindo joined a bid for the project tender with a system design modeled in L-Acoustics Soundvision software. Based on the compact, powerful A Series line source, the design won the approval of the theatre's management team for its coherent coverage and its ability to blend into the architecture without obstructing sightlines.
The L-ISA design proposed by Gracia Auvindo featured fewer boxes compared to lengthy stereo arrays using A Series. The system offered similar SPL compared to larger enclosures, allowing the theatre's management to acquire a powerful system that stayed well within the revitalization project budget.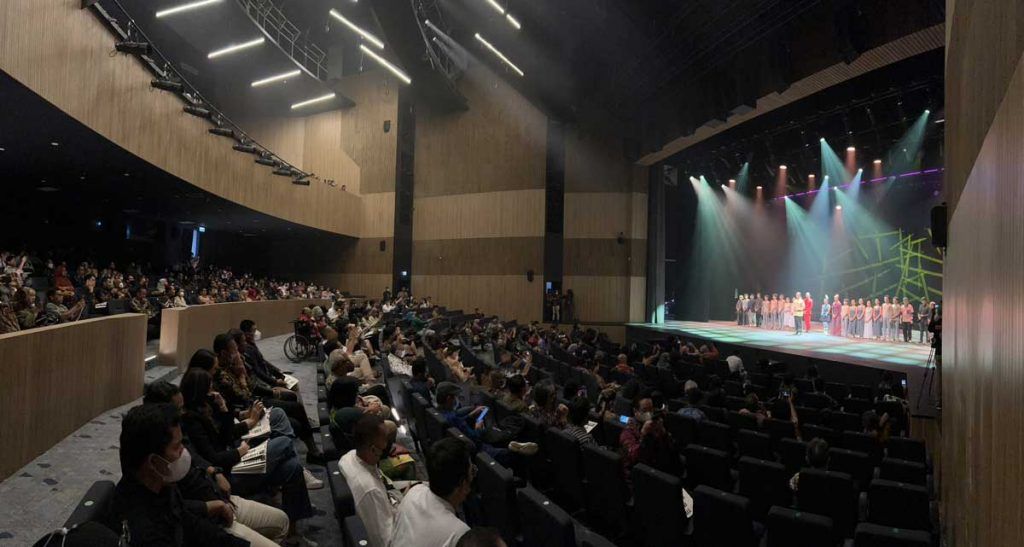 The final design consists of a Scene System of five hangs of two L-Acoustics A10 Focus and two A10 Wide each, spread evenly across the stage proscenium. Two further hangs, one A10 Focus and two A10 Wide each, are hung on either side of the Scene System for extension. A center hang of six KS21 subwoofers ensures low-frequency definition. Sixteen coaxial X8 boxes distributed along the side and rear walls of the theatre hall make up the surround system, with two L-Acoustics X8 boxes for deck fill. Six X12 point-source speakers are rigged above the audience for height, completing the spatial sound configuration.
Seven L-Acoustics 5XT embedded across the stage lip provide spatial front-fill, while near-fill is accomplished by three pairs of 108P active monitors. Performers on stage are served by 10 L-Acoustics 112P monitors, and the entire system is driven by 10 LA4X and six LA2Xi amplified controllers powered by an L-ISA Processor II on a Live 32-tier license which allows for 128 inputs and 32 outputs.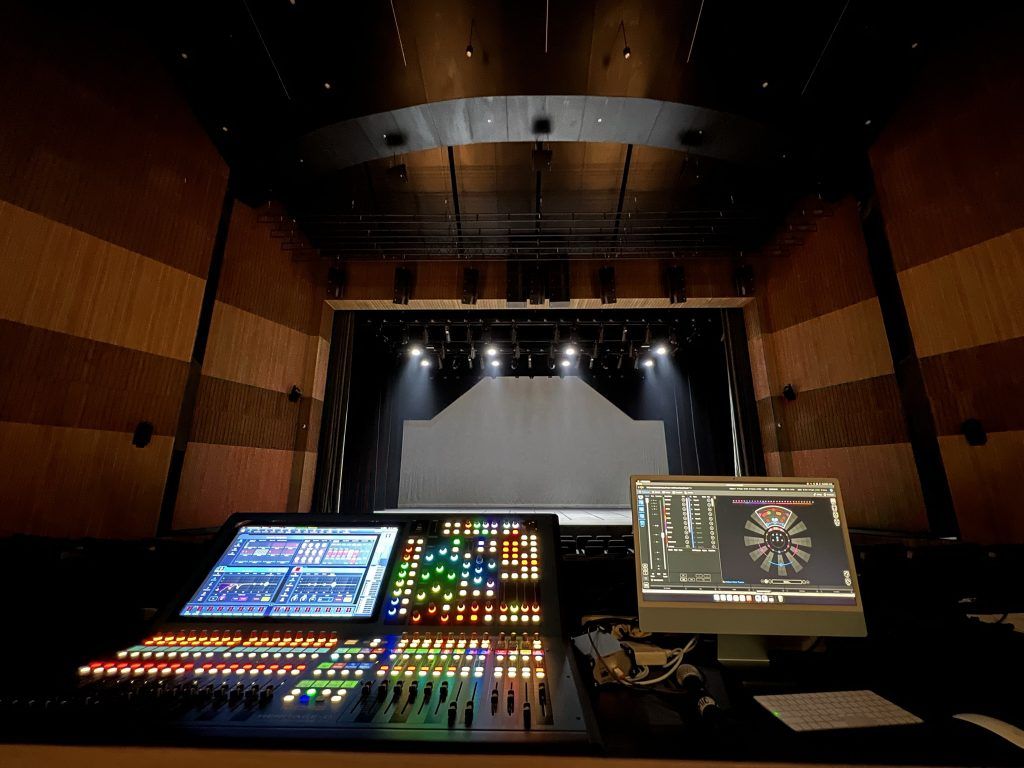 The L-Acoustics Application Project team helped to calibrate the system and train theatre staff and audio consultant Bayu Wicksana to use it for object-based spatial mixing. "The main scene system makes the positioning of sound objects across the stage more realistic," says Mr. Bayu. "This gives our productions, especially theatrical performances, a lush, panoramic feel."
"I am constantly discovering and exploring endless mixing possibilities with the frontal, height, and surround systems," he concludes. "It is a joy to craft and hear a livelier, more natural atmosphere for the theatre's diverse range of performances and productions."
Learn more about Gracia Auvindo at www.graciaauvindo.com.