Story
Rumour Has It Adele is Even Better with the Immersive Sound of L-ISA
Rumour Has It Adele is Even Better with the Immersive Sound of L-ISA...
Sixteen-time Grammy Award-winner Adele started her five-month-long Las Vegas residency Weekends With Adele at The Colosseum in Caesars Palace, from November 18th, 2022, through March 25th, 2023. And due to the show's monumental success, the "Easy on Me" singer announced in March that she would return for more shows in June, which will run until November.
"Playing to 4,000 people for 34 dates is not enough, and I know that," she told concertgoers back in March.
Throughout Adele's intimate show, she regales the audience with her hits, including "Set Fire to the Rain," "Hello," "I Drink Wine," "Rolling in the Deep," and her sultry James Bond theme, "Skyfall," where footage from the film plays behind her. She also walks through the crowd belting out her 2015 hit "When We Were Young."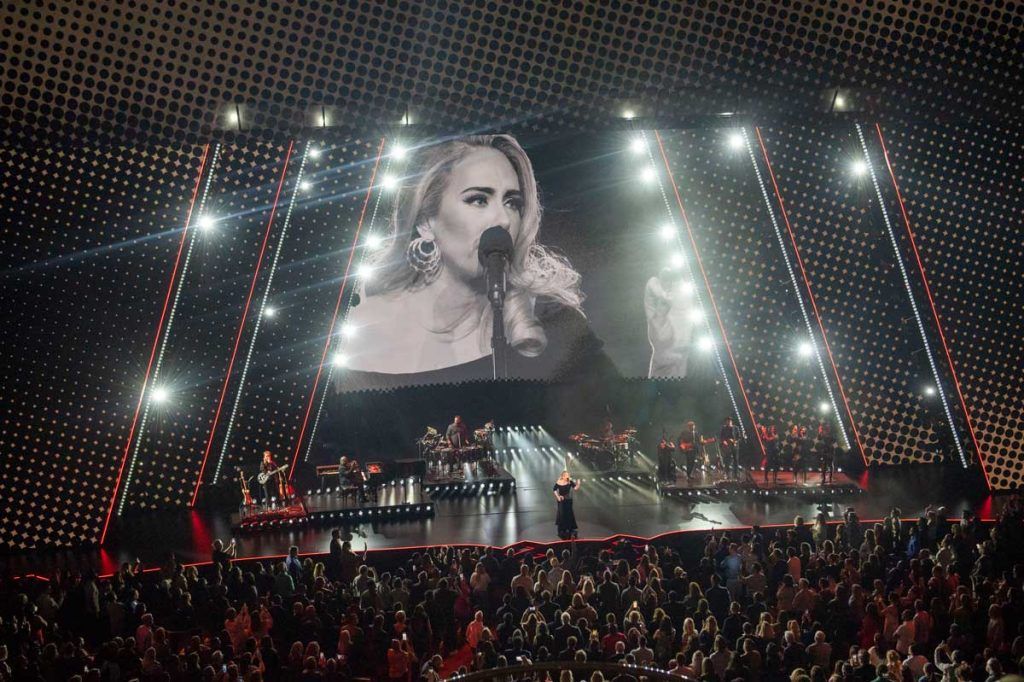 A key part of what makes Adele's residency such a standout is the immersive audio technology supporting the powerhouse vocalist. With L-ISA immersive sound technology supplied by Clair Global, Weekends With Adele's ensures a great audio experience with 31 front-fill speakers toward the stage, complemented by eight KS28 subwoofers under the stage, reproducing a high-quality, image-authentic immersive audio experience for those in the front rows. L-Acoustics K2 loudspeakers are the star of the system, seven arrays of them in total make up the Scene system, while two hangs of Kara are used for Extension arrays. KS28 subwoofers, in two columns, are hung directly behind the center K2 array, and more ground-stacked subs are deployed in a distributed line across and underneath the stage edge. Compact 5XT spatial fills are distributed across the stage lip, along with larger X8 deployed as out-fills. All are powered by LA12X amplified controllers, while the L‑Acoustics P1 processor and L-ISA Processor II units manage the system. The signal is distributed over a Milan AVB network via L-Acoustics LS10 and Luminex AVB switches. 
The L-ISA setup for Adele's show brings an added dimension of realness and intimacy to her residency, not found in any other sans-L-Acoustics Vegas show. With Weekends With Adele, audience members feel like they're inside the music, and the artist is putting on a private concert just for them. But don't take just our word for it. With four press articles praising the sound, it's clear why the show has been a resounding success.
"Essentially, L-ISA reconnects the audience with the performer, inviting listeners inside the music and dialing up the level of emotion," comments Amanda Breen with Entrepreneur. "As it stands, the vast majority of people who attend Adele's residency probably don't know just how significant a role L-ISA plays in their experience. Still, they'll be immersed in Adele's singular voice and come away amazed, likely noticing the sound they're hearing is different and that it goes beyond seeing their favorite artist live."
From Curtis M. Wong from Huffington Post, "To strike a balance between the intimacy of her early shows and the kind of maximalist spectacle that Vegas audiences expect, Adele is using a type of spatial sound design known as L-ISA (for "immersive sound arts"). It allows the backstage team to digitally "track" the performers and musicians and produce a soundscape that resembles a Broadway musical more than it does a traditional pop concert."
"With the show design emphasizing a show that visually grows in size, we have been able to complement the show's visual with an audio soundscape that grows and builds in a similar way. While this is done to match the overall visual ebb-and-flow of the show, we can also do this throughout the course of a song, adding an extra dimension to the overall experience," says Johnny Keirle, Adele's production system engineer to Rolling Stone.
And even more from Rolling Stone: "No matter where you're sitting in the audience, you'll feel like you're part of the action, from the opening ballads to the most explosive moments (think: thunder crashes, an expansive live-band reveal, and literal pianos on fire while rain pours down from the sky — can you guess the song?). In other words: It's subtle, but what you see is what you hear, and there's hardly a bad seat in the house from a sound perspective."
And this Billboard article makes the statement, "Adele's Las Vegas residency could be a game-changer for immersive audio at concerts," and that "growing interest in spatial audio is fueling increased demand from artists and their creative teams to find money and physical space to deploy the technology at concerts." [Billboard article is a paid subscription.]
With even more concertgoers experiencing the emotional connection that L-ISA provides, the outlook for immersive format concerts will only continue to grow.