Story
Women in Pro Audio: Flurina Hunkeler
Women in Pro Audio: Flurina Hunkeler...
Interview
Women in Pro Audio
"I really enjoy working with other women in sound engineering, and it's so much fun. It reminds me of the things I love about this job. I want to help other women to have impressive careers in sound. If I can give female colleagues some tools and contacts to get a great gig, that's a beautiful feeling. That's the legacy I want to leave behind." – Flurina Hunkeler
---
For this month's Women in Pro Audio interview series, we had the chance to interview the developing talent Flurina Hunkeler, a Swiss freelance sound engineer based out of London who stretches her time between touring and working inside London venues such as the Village Underground, Lafayette, and Omeara.
"My big goal is touring, but I do love working inside the London venues. With their great sound equipment and all the incredible bands who play inside these venues, I get to enjoy a playground of sound toys. I get to mix a lot of amazing upcoming artists, and I love mixing FOH. The music is the most important part. To recreate the artists' vision of how they want their music to sound in a live environment is the coolest part of my job."
Meet Flurina
Like many other music-loving young girls, Flurina wanted to be a rockstar. "When I was about ten, all I wanted to do with my life was tour the world as a rock star. A few years later, when I was 15, I picked up the idea of becoming a sound engineer, and the idea of simply 'touring' stuck, but I was too young to start an internship. There was also no official way to become a sound engineer in Switzerland back then, at least not for live sound." So Flurina studied jazz guitar, but after some time, she realized she didn't like practicing scales on the guitar all day.
"Luckily, a girl a few years above me knew someone interning for live sound at a local venue. I started there in the summer of 2011 when I was 18. A year before, I changed to a talent school where we had more free time for our practice. Fortunately, they accepted sound engineering as my new talent. That made it possible for me to head over to the venue in the afternoons for the setups and the soundchecks. It was a great experience. We were just a couple of girls in the venue, all very keen to learn, and we had a great mentor. The tech manager used to be a teacher, so he took the time to teach me. The other engineers there were great too! Some would sometimes take me to other venues to see different setups and desks."
Flurina continues, "After a few months, I started freelancing in the same venue and other local places. Years later, I did a degree in sound. I was convinced I'd move to London when I was 21 and study music production there, but everything came differently than I expected."
She recounts her reason for staying in Switzerland, "I knew I needed to move away from Switzerland to make any of my sound engineer goals come true, but I was young, stupid, and in love, so I stayed in Switzerland. I don't regret it, my career would have been different if I had moved to London earlier, but I had a few amazing years. I ended up getting my degree in Switzerland instead of London. It was a great school based in Zurich, yet the system in Switzerland is a bit different. The school would prepare you for the Federal exam held by the AES society. Afterward, I started working more in broadcast, which was more flexible regarding splitting work and personal time. There was always broadcast work so I could choose my working time more. I focused on my private life, spent much time with my family, and went snowboarding and surfing. I really miss that time since I'm now in London, trying to focus on my career."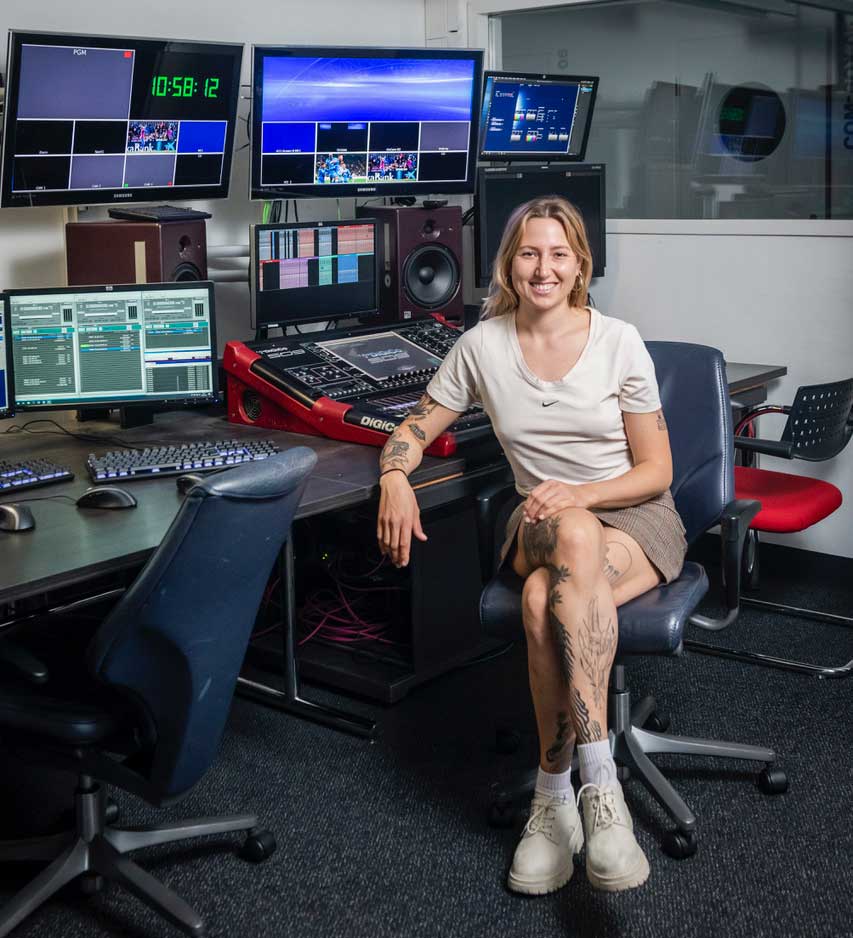 Challenges
"Sound engineering is a challenging career; you must sacrifice a lot to succeed. It was always hard for me to prioritize whether I should focus on my career or personal life. It can be quite lonely because you are working when others are off. Then conversely, you're off when most are working. I definitely missed out on some great experiences and moments with my friends and family. I also missed some work opportunities because I sometimes had to prioritize my personal life. I hope to find that perfect balance one day."
"I think this industry is the most difficult when you have the ambition of becoming a FOH or a monitor engineer for the big players. It's a small circle, the competition is big, and at the end of the day, it all comes down to who you know. This is a common struggle for everyone – women and men. But it takes longer for women to get there, and it feels like we need to be better than our male colleagues. You can't make any mistakes as a woman because I feel that just proves those who underestimate you right. Then they make you step back and start again. It's extremely discouraging."
Flurina continues, "This is a very challenging industry – no matter who you are or where you come from. But as a woman, you just get underestimated. Constantly. And that's really hard on your confidence. You also need a lot of patience to get where you want to go in your career. There were many moments in my career when I stepped away from it because I lost my patience. Whenever I would work my way up in a company or venue and when there was finally an opening in the position I wanted, almost every time, they would bring in a man with the same experience as me and give him the job instead."
To bounce back from those unconscious gender bias blows, Flurina focuses on herself, "That's when I take some time off and go surfing or snowboarding. I take a big break. Start somewhere new. Do something else." She takes a minute and thinks, then says aloud, "I should have fought more to be given a chance to prove that I would have been just as good for these positions. And I know a lot of women in this industry struggle with self-confidence too. Some call it imposter syndrome. I try to empower my female colleagues and give them extra confidence. I hope it helps. We have to support each other."
When hitting career challenges, Flurina focuses on a different angle. "Since moving to the UK, I try not to run away like I've done in the past. I try different things and angles. I started to exchange more with fellow engineers to talk about experiences we all go through. To ask for advice, etc. Last year I had a horrible touring experience that crushed me; it was all about male egos, and I am very sensitive. I decided it was time for me to get professional help. In the UK, there is an organization called BAPAM (British Association for Performing Arts Medicine, bapam.org.uk). I got assigned to a fantastic counselor. He used to work in the music industry and understood my struggles. He gave me some fantastic tools and strategies to cope. I highly recommend it to anybody struggling with their work environment."
Advice
Flurina lists out what she feels are the most important things in working in live sound: "My favorite resources are my work colleagues. I think it's super important to have a good network. If I have a problem, my solution is usually just a quick phone call away. It's also important not to be shy. We all have been there when we needed some extra help. And I am always keen to help as well. Most of the time, this is about equipment. You can't be a specialist on all the brands; there are just too many. I also like to exchange mixing ideas and discuss solutions to problems; sometimes, just a different perspective helps. Another great resource is the smartphone! Keyword search functions in user manuals. Google polar patterns or watch a YouTube tutorial on a new piece of equipment. My favorite mixing resources at the moment are dynamic EQs. I just discovered that if I use them in the send path of the vocal effects, I can make them sound much more natural."
Flurina discourages pettiness. "Don't see other women as your competition. Work together, not against each other. Have self-confidence. Don't downplay your skills. It is not being cocky if you are proud of your skills and share them. Start at the basics; the better you understand those basics, then everything after is simple. And try not to get overwhelmed by the different equipment. For example, all mixing desks are doing more or less the same thing, just the functions are named differently, or the knobs are in different places. As long as you understand what those knobs do, then you'll figure out what you need to do. And sometimes you just have to wing it, and there's nothing wrong with that."
As far as non-technical tips, she says, "Keep your cool. I know it's easier said than done, but it's pretty much the best weapon against negativity or bad comments. Smile, and try to look friendly all the time! I have a bad resting face, which is just my focus face, but the guys always take it so wrong."
Diversity
When discussing the lack of women in live and pro sound, Flurina reflects: "There is a real lack of diversity in general. The audio industry consists of about 90%-95% of white men. There are probably many reasons why that's the case. I don't think it necessarily has something to do with discrimination and exclusion. I think it's more complex than that. Maybe it doesn't feel as accessible to some. Or maybe it's because the audio industry is not fully professionalized yet in terms of hiring. It's much less about your CV and degree and more about whom you know and who wants to give you an opportunity. Adding to that, it's a very competitive industry. These two elements make it hard to get out of the diversity problem."
On the positive, Flurina notes that the audio industry is open to women. "For me, getting a job was never a problem, but my problems usually start when I become ambitious. Right now, a lot of companies and productions are interested in having women in their audio team, the important part now is what they are going to do with their female employees. I want women to be supported more and seen in a different light from the industry. The problem here is that the culture of many crews and teams is still very masculine. I hope the men become more sensitive and open-minded.
"There is a lot of momentum now for females in live music in any position. A lot of artists are demanding more women on their touring crews, which is very understandable. I find it horrifying when I am the only woman on tour, especially on the tour bus. I am super happy about this momentum. I hope the guys will celebrate this with us and not get jealous if we get an advantage for once."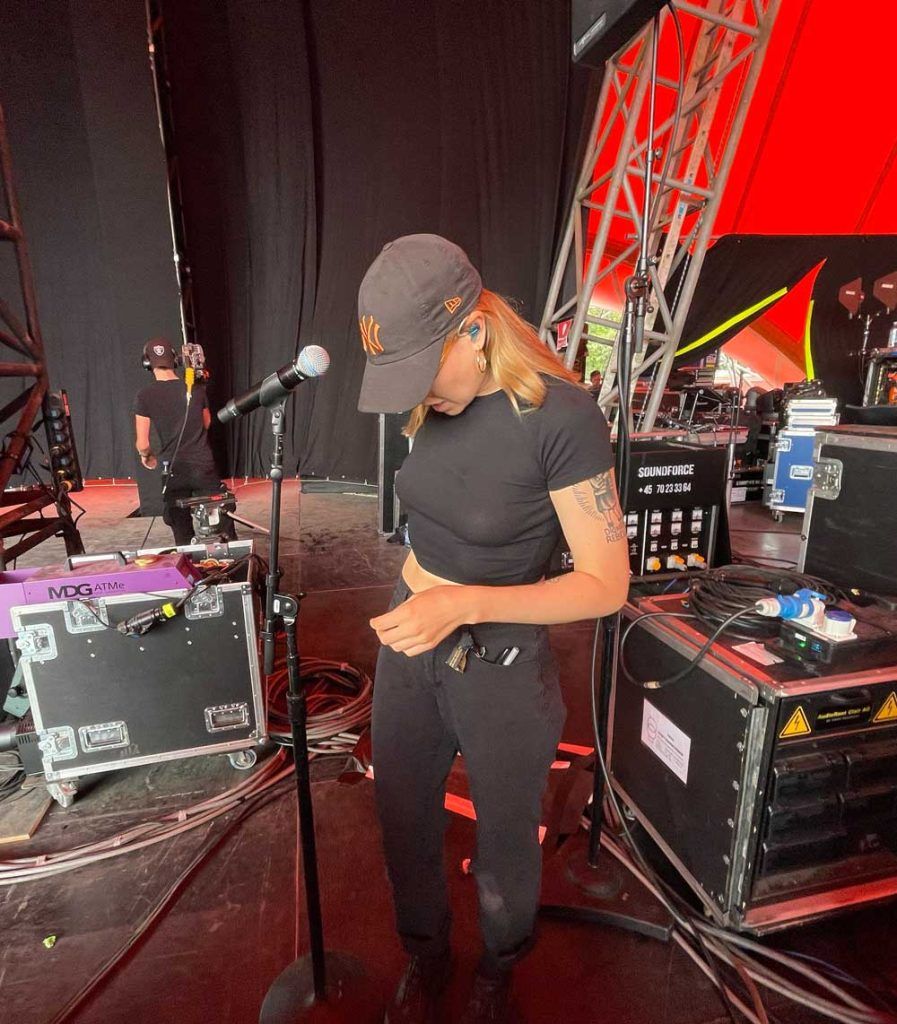 Why She Does It
"I love the different locations! I love being somewhere different or new every day. The people, if you have a good team, it's the best feeling too. It stops feeling like work and starts feeling like you're doing cool things with your friends all day – which you are! I really do love traveling. I hope to transition full-time into touring soon so I can travel even more. When I am on the job away from home, I can focus on the work; when I'm home, I can focus on my personal life. I also really love that moment when you get the mix just right, and you stand there and think this sounds f***ing amazing!"
A funny moment for Flurina was, "I was working for one of the major Football clubs in Switzerland. I was in charge of the sound in the stadium. My FOH position was on the main stand, and there was a clip I had to play from the mixing desk. When I pushed the button to press play, the power in the stadium went out. For a second, I thought it was my fault. It became a running gag with my colleagues that I ran the PA too loud. Of course, it was just a coincidence."
The Future of Pro Audio
With more access to pro audio and live sound education, more people are getting involved. For Flurina, this is a major positive and one she'd like to see more of. She makes a strong note that she'd like to see more diversity. "I can't wait for the day it gets normal to be 50+% females on a touring party. And people should be more relaxed and healthier with their minds while working. We are all professionals and know what we are doing. There is no need to be aggressive, stressed, or over the top. I'd like for it all to be a healthier environment. Mentally and physically."
Flurina also really enjoys working with female artists. "I hope to work with many more. Last summer, I was a monitor tech for Kacey Musgraves for their European festival shows. That was a very challenging but enriching experience. The production was fantastic, and everybody was so talented in this camp. It was a great honor. I also recently started doing FOH for a young London artist, Gretel Hänlyn, and she really has so much raw talent. She's definitely someone to watch out for. Everybody is super ambitious to get her production to another level, and I can't wait to see how far she will go. The sky is the limit," she concludes.
"I would also like to see more openness everywhere. The industry is so judgmental, and there isn't much wiggle space. I hope the industry opens up to more different people and ways of doing things. There are many ways to Rome. People in audio have forgotten this, and they're so set in their ways. We are not doing open heart surgery. We're supposed to have fun doing our jobs because we bring joy to people. How can we do that with a serious face?"
Finding Purpose Through Empowering Others
Empowering other people is often more rewarding when you're on the giving end. Flurina has found this to be the case since starting a live sound course for women in London. "At the moment, it's in the beginning stage. We meet whenever we have time and find an accessible venue, and we go over things that are interesting to us. It's amazing how many young women are generally interested in live sound or sound engineering. I hope to empower them and give them positive energy. And honestly, they give me so much in return too. I really enjoy working with other women in sound engineering, and it's so much fun. It reminds me of the things I love about this job. I want to help other women to have impressive careers in sound. If I can give female colleagues some tools and contacts to get a great gig, that's a beautiful feeling. That's the legacy I want to leave behind." 
In closing, Flurina adds, "If there are any girls and women out there interested in joining my sound course/group or just to have a coffee and exchange experiences, don't hesitate to email or DM me on Instagram!"