Press Release
Yokohama's Brand-New K Arena Receives L-Acoustics K Series Concert Sound System Treatment
Yokohama's Brand-New K Arena Receives L-Acoustics K Series Concert Sound System ...
Hibino Sound Div. designed and provided technical support for the 20,000-seat purpose-built music arena, part of the Music Terrace lifestyle complex by Ken Corporation
---
YOKOHAMA, Japan – November 2023 –This autumn, the K Arena, one of the world's largest purpose-built music venues, opened on the waterfront bay of Minato Mirai in the central business district of Yokohama City, a major economic, commercial, and cultural hub of the Greater Tokyo Area just thirty kilometers south of the Japanese capital. Yokohama is home to a variety of museums, zoos, iconic city landmarks, and enriching cultural experiences that cater to the tens of millions of tourists visiting each year.
The nine-story high, 54,000 square foot K Arena is part of the Music Terrace, a commercial land complex developed by luxury real estate company the Ken Corporation. The complex will contribute to the work-life balance of the employees working in the next-door K Tower Yokohama offices, while also attracting tourists with a tempting offer of premium retail and dining options and premium hospitality services at the Hilton Yokohama, also part of the Music Terrace. Holidaymakers looking for a relaxing time by the sea will be immersed in a culturally enriching experience with music at its core.
At the center of the waterfront Music Terrace, the K Arena is a live concert venue fitted with a professional audio system where touring artists' unique expressions are translated into a pleasurable concert experience for audiences. The Arena includes a full range of hospitality features throughout its facility, including twelve food & beverage outlets as well as fine dining and VIP hospitality lounges for concert ticket holders.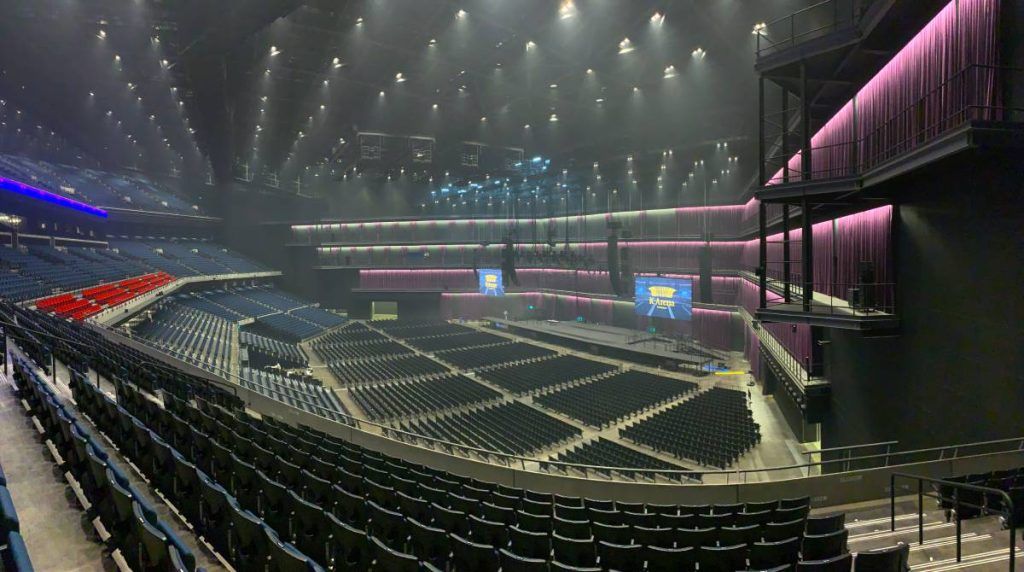 To cover the arena's fan-shaped, four-tiered, seven-level audience area, the K Arena management team sought out a best-in-class speaker system that would respond to a variety of technical production briefs and deliver high-quality, powerful sound to each of the 20,000 seats. The cavernous arena is equipped with sound-absorbing materials hung from the maintenance deck on the ceiling to reduce reverberation time. Further insulation materials spread around the arena minimize sound leakage beyond the arena walls.
K Arena's management leaned on the entertainment technology expertise of Sony Marketing Co., Ltd. to deliver on-stage equipment, visual display units, lighting configurations, and sound system integration to the arena. Sony Marketing Co., Ltd. sought the expertise of L-Acoustics Certified Rental Agent Hibino Sound, a pioneer in concert sound systems for over fifty years, which today boasts a deep roster of experienced system and mixing engineers across Japan, to help design the optimal system. Hiroshi Inoue, Manager of Hibino Sound Div., System Technology Department praises L-Acoustics for its robust ecosystem of hardware and software. He especially appreciates Soundvision 3D modeling software, which "allowed us to know the impact of our sound design on each of the audience seating zones."
These tools proved invaluable to the Hibino Sound team as they integrated their proposed system design, which features main left-right hangs of 16 L-Acoustics K1 boxes per side over four K2 down, with 12 KS28 subwoofers flown beside each array and a single center array of six Kara II for center-fill. Twenty further K2 per side provide out-fill to the wide fan-shaped audience area. Two delay rings send sound to the upper tiers and back rows: the first consisting of six arrays of four K2 and the second including eight arrays of four K3 each. Two left/right arrays of five Kiva II topped by two SB15m provide side-fill to the balconies. Eight KS28 and 20 Kiva II are on hand as a mobile system when needed and are most often used for ground-stacked rumble and front-fill, respectively.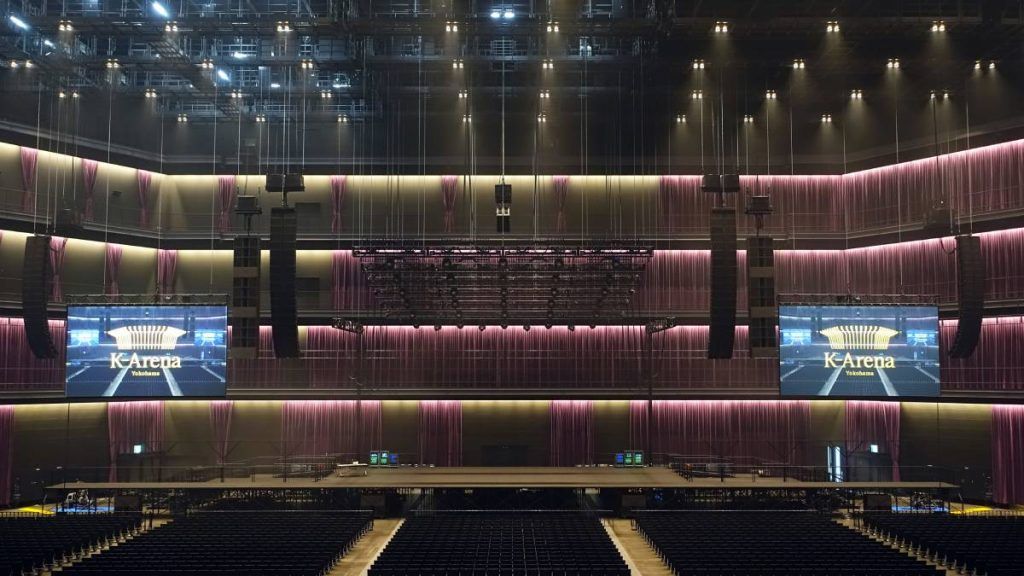 A total of 86 units of LA12X amplified controllers drive the combined system of over 200 L-Acoustics speakers, with six P1 processors, four of them installed and two portable, receiving audio control signals over Milan AVB, with a backup via an analog line from a device network control room. System engineers lean on the Autoclimate function of L-Acoustics P1 and LA Network Manager to assist with adjusting the system to the arena's humidity level, especially during the drier winter months, ensuring ideal attenuation of the system's high-frequency output.
Mr. Nozomi Sato, General Manager of Sales of the K Arena management team, praised the signature world-class sound and dependable nature of the L-Acoustics K Series concert sound system. "The sound is extremely pleasing to listen to. We held previews for clients before we officially opened at the end of September. Everyone who came told us they would not have problems with the high-quality audio equipment installed," says Soto.
With global superstars and iconic bands such as Sam Smith, Jay Chou, Def Leppard, and Mötley Crüe, and the MTV Video Music Awards Japan slated to take to the stage in the coming months, concertgoers and music fans are sure to be enthralled by the larger-than-life sonics of the K Arena.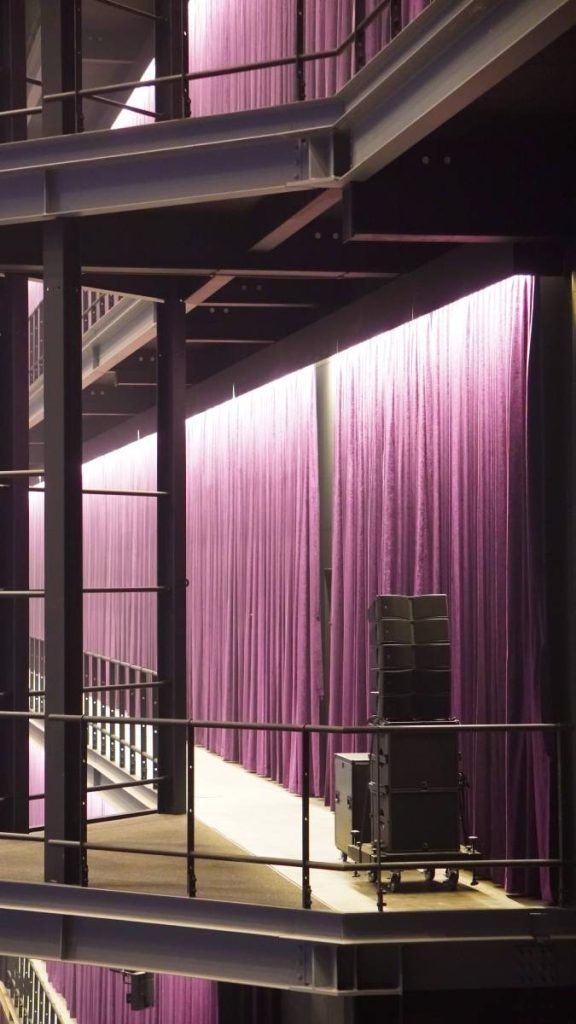 Learn more about Hibino Sound and the K Arena at www.hibino.co.jp/english/sound and www.k-arena.com respectively.