News
Canvas Manchester Becomes Epicenter of Live Music and Club Nights with L-Acoustics
Canvas Manchester Becomes Epicenter of Live Music and Club Nights with L-Acousti...
Installed by Audiotek, A Series brings perfect coverage and SPL to new state-of-the-art 600-capacity music and events venue
---
MANCHESTER, UK – November 2022 – After a two-year hiatus, Manchester's long-standing tradition as a musical epicenter is once again bolstered by the arrival of a 'next-generation' cultural destination, Canvas. Located just off Oxford Road in the heart of Circle Square, the multi-purpose space is a blank canvas featuring live music, club nights, a member's lounge with events, and a seven-day-a-week bar open until 4 am and a restaurant. Featuring the latest technology for visually and sonically led entertainment experiences, the sound is delivered via an L-Acoustics A Series system, specified and designed by L-Acoustics UK distributor, Audiotek, which was commissioned to supply AV requirements across the venue's three main spaces.
The team behind Canvas is not new to the entertainment industry, having previously founded two of London's most prolific music establishments, The Pickle Factory and Oval Space. Christopher Kmiec, Audiotek's UK Director, explains how excited his team, which includes Projects Manager Ash Attwood and Design Engineer James Bentham, was when the opportunity presented itself to work with the Canvas team on an entirely new space.
"We had dealt with a number of the team behind Canvas before and were thrilled to work on a full, brand-new venue with them," Kmiec recalls. "Canvas was a complete new build, in an empty space, with Audiotek delivering sound, lights, and video for the performance room, member's lounge, and the bar and restaurant areas."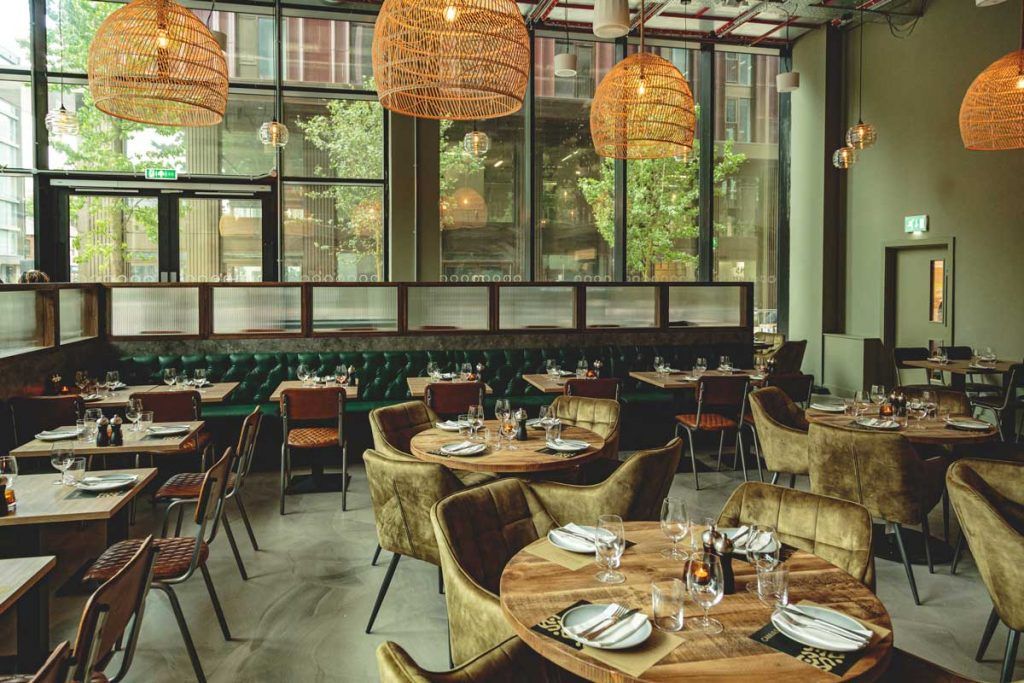 In the main performance space, the client brief was short and clear, "they wanted to be as rider-friendly as possible and to make a real impact on the Manchester scene, so everyone knew from the start that the technical infrastructure of the venue would be key to its success," explains Kmiec.
The Audiotek team specified and designed the L-Acoustics system in-house, with A Series fitting the brief perfectly by providing optimum coverage and SPL in a budget-friendly package. "Apart from sounding and looking very impressive, the system is also rider friendly, so it ticked all the boxes," Kmiec continues.
The final design comprises three A15 and two KS21 subs positioned on the left and right sides of the stage. It is a "fairly simple setup," according to Kmiec, as being purpose-built, the performance space has good views of the stage from every part of the room, which means a simple L/R system is ideal. "The main L-Acoustics arrays also cover the VIP balcony, which was great," he adds. LA12X and LA4X amplified controllers power the entire system.
The Canvas team was delighted with the results, as Archie McIntosh, one of the founding members at Canvas, commented: "Working with Audiotek on this project was very easy and, after a series of meetings and discussions on our vision for the venue, they adjusted and perfected the design of the system," concludes McIntosh. "The team understood what was required right from the start. On-site, the guys were great. They're always helpful, and they really put the hours in to ensure everything was done to a 'T.'
"The venue is built to be as flexible as possible, and we needed a system to cope with all our events. From yoga on a Sunday morning to all music types and live acts right through the night, the A Series sounds incredible, and with so much power coming from the system, we will never get complaints from visiting artists. We're very happy with the result; L-Acoustics is a major asset to the venue!"