Story
Women in Pro Audio: Barbara Adams
Women in Pro Audio: Barbara Adams...
"The best shows are the ones where the band thanks you at the show's end and tells you how easy it made their job that night. That is the best feeling in the world and why I do what I do." – Barbara Adams
---
Joining us for this month's Women in Pro Audio series, we had the pleasure of interviewing a pro sound educator and doer. Not only does she get her hands dirty with monitors and front-of-house consoles, but for the past 13 years, she has been a college professor teaching music industry courses and, since 2016, a full-time lecturer at Rowan University in New Jersey.
Meet Barbara
Meet Barbara Adams, Senior Lecturer at Rowan University and a freelance audio engineer who, for the past 28 years, has worked at various-sized venues scattered across the Philadelphia area. She's on call for some larger production companies as a front-of-house or monitor engineer for festivals and events and owns a small system to provide sound for more intimate events in Philly. "My career has two sides these days: education and audio tech. They intersect a lot, but they are two separate jobs. I teach live sound and recording classes and mentor students as they start their careers in the music industry. But to teach effectively, I must stay connected to the industry."
And how does she do that?
"I love being a live sound engineer, and I maintain a steady schedule of shows along with my teaching job. Over the past year, I worked at the Peach Music Festival as a monitor engineer for DBS Audio, an audio tech for Bauder Audio and the Fallser Club, a monitor engineer at the Brooklyn Bowl in Philly, and I have provided full-service sound for several events in the Philadelphia area. I even stepped in as a stagehand at the Keswick Theater because I love the venue and crew."
Barbara feels that, in a way, she always knew she wanted to work in music, even at a young age. Her love of music and curiosity about its production led her to attend Full Sail University in 1994. "I didn't know what audio engineering was. I just wanted a job where I could be around music. I wasn't a musician, which was the typical way back then to get into audio tech. And because I didn't know anyone in the industry and had no clue what I was getting into, I didn't even know where to look. And it was before anyone had computers at home, and phones were still plugged into the wall in the kitchen. An advertisement for Full Sail in the back of Spin Magazine got me curious. I did some research, but I knew I wanted to attend school to learn music production. I was shy. I wasn't a big go-getter, so I needed the structure that a school could offer. The tour of the school and seeing the studios and the big production finalized the decision for me. I was hooked and did everything I could to succeed after that."
Following school, Barbara interned at Sonic Recording Studios, eventually getting paid for her work. "I was a great assistant engineer in the studio, but I didn't always feel comfortable taking the lead on sessions. Even in school, live sound was always more exciting for me. While working at the studio, I would pick up gigs doing sound at local bars and clubs. The first venue I was hired full-time at was the Trocadero. From there, I never looked back as I started working regularly as a monitor engineer and FOH for many venues."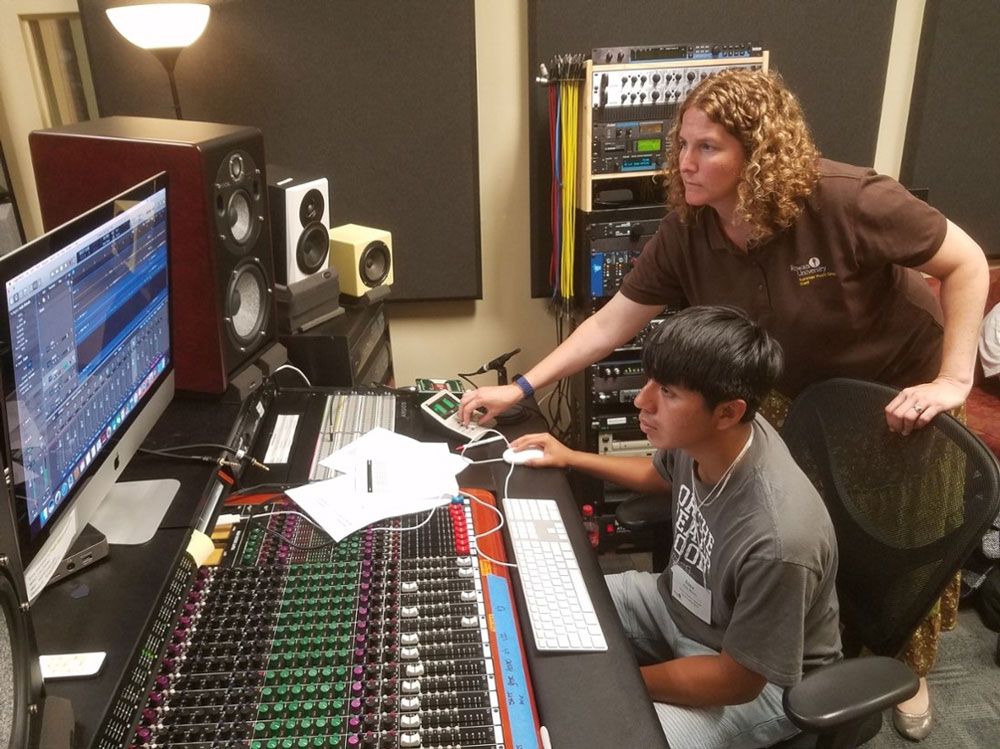 Tips for the Trade
"Go for it!" Barbara says when we asked her for advice to other women getting into pro sound. "If you want to build a career in this industry, do it. Nothing will be handed to you. You will have to work for it. Be prepared to get a little sweaty, a little dirty, and work long hours. If that isn't something you are into – this may not be the right job. I mean, there was a time that a bus I was on nearly flipped over while we were sleeping in the bunks. Another time, a stage collapsed while I was on it!"
(We'll return to that stage-collapse thing in a minute. Please read on.)
Barbara pushes on, "But discover your path because when you do, it's all worth it. Get to know industry people, attend conferences, participate in workshops, and continue learning. Find joy in what you do. This is a passion-driven industry; the job will be easier if you are passionate about your work. Technology also changes so quickly now, and so many resources are out there. Finding what you can trust in a sea of social media, YouTube videos, and online learning may be hard. My favorite resources are the community of friends and colleagues I have made. Some have created fantastic online platforms like SoundGirls and the Signal to Noise Podcast."
When it comes to live sound, Barbara notes: "Get to know the room you are in. Walk around and listen to what the room sounds like. I always start with a reference song or two. My first song is always Sting's "A Thousand Years." I did a gig yesterday, and the artist remarked that it was the loveliest soundcheck song she had heard. It's just a song I know well: I hear the various tones and shapes and can listen to how it sounds in the room to give me an idea of how the band's music will react in that space. During soundcheck, walk around the room. Mix position does not always represent what the audience will hear. Some great tools help guide us in this process, but it comes down to understanding the basics of acoustics, gain structure, EQ, and critical listening."
Barbara then emphasizes, "KNOW SIGNAL FLOW! It is crucial to understand how the signal gets from the mic to the console, what is going on in the console, and how it gets out of the console to the amps and speakers. If you understand signal flow, you can work with any console in any system for the most part. Sure, we all have our favorite consoles and speakers, but sometimes you don't have a choice. One day, I'm on a Midas with Meyer speakers, the next on a Yamaha with L-Acoustics speakers, the next on an SL6 with d&b speakers, or Allen and Heath with RCF speakers – it changes all the time when you're freelancing."
Her advice for overcoming a problem or challenge while working is to "Find the solution, get through it, and move on." She continues, "I have had many challenging gigs over the years, some that nearly made me want to walk away from it all. There is no fun in that, though, the walking away part. I cover troubleshooting in my classes, ensuring students understand signal flow and think through things carefully when something goes wrong. Quickly finding out where that is takes experience. Then there are the times when things are out of your hands, and everything goes sideways. In these situations, I try to keep calm. I find out how to correct the problem, find a way around it, and go on with the show. I will admit it's not easy to keep calm in tense situations. Again, the ability to do this with grace comes with experience, and every challenge presents a way for you to learn and grow. Overcoming it is taking the lesson and letting go of the negative feelings so they don't hold you back."
Three Top Skills
We asked Barbara what three skills a newcomer should focus on when working in live sound.
First: "Networking Skills. Get to know people in the industry. I have never had a job where I was hired by my resume alone. It has always been because I knew someone who put in a good word. But even beyond that, they are the best resources when you need them. If I have a technical question I can't figure out, I have a group of friends I know I can call and get answers. Even if you consider yourself shy or an introvert, find a way to get out there and interact with others in this industry."
Second: "Troubleshooting skills. Understanding signal flow is so important. It helps you know where to look when things go wrong."
And third: "Patience. Be patient about growing your career. You may not get to mix big shows right away, but keep aiming higher at each stage. And once you do start working jobs and gigs, be patient and know how to work effectively and safely. Don't rush through something without consideration for safety and proper setups."
Safety
Speaking of safety, we want to "circle back" to that whole stage-collapsing thing. What happened there?
"Yes, let's talk about this stage collapse. It is one of the reasons I have lectures and conversations with students about safety. At a festival several years ago, I was working monitors. The monitor world was built on stage decking extended off a stage line stage. Unknown to me, it was not built safely. The first band of a three-day festival was on stage while a video crew was working off-stage behind me, fixing a video wall. The video crew was using a forklift, and the lift tapped the side of the stage where my monitor world was set up on. That tap caused a chain reaction, knocking the legs of the decks out from beneath my console. Thankfully, I had taken a few steps away from the console seconds before this happened so I could open a side curtain to get some air moving in my area. Nobody was injured, but the gear took a beating. It could have been a lot worse; I could have been behind the console and fallen six or eight feet with it on top of me."
We All Have Bad Days
You know that feeling when things go really bad at work, and you develop that deep, sick feeling in your gut? Well, we've all been there. For Barbara, it happened when she was a monitor engineer/tech at a major festival several years ago.
"This was when digital desks were still new, and I was still learning how to use them to their full extent. We had two PM5Ds on deck so we could go from band to band quickly (15-minute changeovers). While one band was on stage performing, the next band was backstage patching into the second desk. Line checks were done backstage, and then we would disconnect stage boxes, rotate the risers, reconnect, and go. The issue was that both consoles were connected to the monitors on stage, so we were good if you didn't open channels on the desk that was line-checking.
"A band was on stage, and the second band was doing a line check. The second band's monitor engineer had a file for the PM5D, and he loaded the file. The bad news is that his inputs and outputs were not muted on the file, so everything opened immediately. There was horrendous feedback in the middle of a song, and the band on stage stopped and yelled at me on the mic in front of 12,000 people. Not my best day. But I quickly muted the second console and tried to smooth over the tension. Just get through the show, I told myself. Many lessons were learned that day, and I never want to relive that feeling."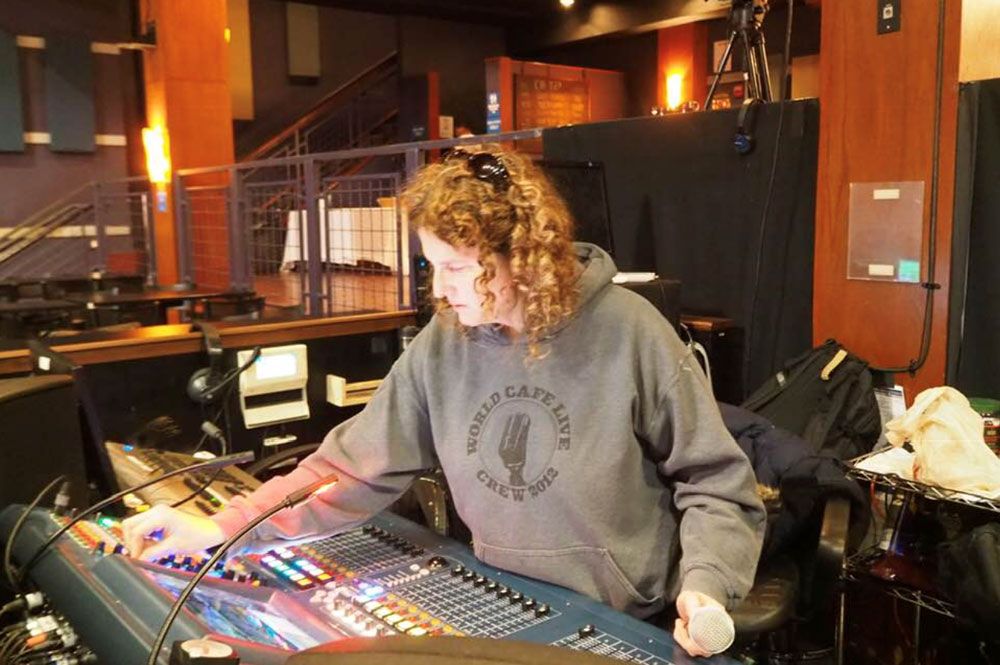 Challenges
A common theme amongst most women in nearly every industry, Barbara has stated that "imposter syndrome is the biggest one" regarding challenges.
"But as I hear more and more from colleagues – this is not just unique to women. Women find it more difficult to 'fake it until you make it.' Especially as a minority in the field, we all go through this. Talking more personally, women have to deal with many things that men don't. Let's be honest: dealing with menstrual cycles on gigs can be challenging in many aspects, and using a port-a-potty on a hot summer day while on your period is not fun."
Yet, Barbara most importantly states: "We all struggle as we grow in our careers. Whether finding gigs, making ends meet, or questioning our abilities. As you work your way up in this career, the money is minimal, and there were years when I worked several jobs (even outside the industry) to pay the bills. There was a lot of imposter syndrome. Not because anyone told me I wasn't qualified but because an internal voice of mine constantly asked if I was good enough. But with every gig, I became more confident and improved my work. Yes, there were moments I think back on when being a female felt like I was always outside of an exclusive club. What bothered me more was being singled out as a female in this industry. Someone always felt the need to point out that I was a girl in a man's world. Sometimes, that was because they were not used to seeing women engineers and were expressing their amazement. Other times, it was blatant sexism with full-on "mansplaining" or questioning my ability."
Barbara pauses and then continues, "This isn't to say there weren't any supportive people around me – there were many, and I owe much of my career growth to those people. Let's face it: This is, and always will be, an industry where your next job comes from or because of someone you know."
Working While Pregnant
Most women have intimately felt the difficulties of juggling a career with having children. It's not easy, and many women deserve more recognition and respect for doing both. We all need financial stability to survive in this world comfortably, and those biologically built to bring in new generations are often stuck wondering how they can do both: hold down a career and have children. Barbara talks about her own experience:
"Pregnancy, for me, was one of the most challenging times in my career. In 2008, amidst the financial downturn, a club I was working for full-time closed. I was three months pregnant. I was sure nobody would hire me, and taking a year off was impossible without losing my mind and savings. It turned out that someone did hire me, and I can't thank Donal McCoy at the Tin Angel enough for taking a chance on me. He placed an ad that a venue was looking for a soundman, which a friend forwarded to me. I sent him my resume and told him I was not a soundman but a damn good soundwoman. My huge belly did not faze him; he just wanted to know my plans when my son was born. I reached out to my network of friends to fill in for me while I was out, and thanks to fantastic family support, I could return to work within a couple of months."
But the hurdles for women don't end after their babies are born: "The next challenge was breastfeeding. Yes, I managed this while still doing regular gigs. I brought a pump to work and a cooler to keep the milk in. In between bands, I would use the "nicer" bathroom to find privacy to pump. Several artists and engineers have recently talked about raising kids while doing what we love to do. It is challenging, but it's possible. My son is now 15 and regularly works gigs with me."
Visibility
We often talk about the disparity between men and women in this industry. And while Barbara noted that she doesn't have all the answers to why that disparity exists, she says, "I think one of the reasons there aren't more women in this industry is that more women haven't been shown in key roles. You tend to search for a community by seeking people who look like you. One of the ways we increase diversity in this industry is to ensure we are mentoring the next generation. SoundGirls has been doing amazing work in this capacity. As a member, I try to ensure I am there to answer questions for up-and-coming engineers and techs. Another way is for more companies to do what L-Acoustics is doing here by highlighting more women in audio. This could be by having women lead training workshops, showing ads with women engineers, or hiring more women in key roles in manufacturing and live sound companies."
Why She Does It
When you have a long career in sound and live events, picking out a favorite show or gig is often tricky. Barbara thinks back on her favorites and can't give a resolute answer. "I have been doing this for nearly 30 years, and so many memorable moments exist. The ones that stay with me, though, are the shows that bring me new connections. Whether it is discovering a new artist that I love by working with them on a show, having bands return to a venue I work at and smile because they are happy to see me and know it will be a great night, or meeting a new friend that I continue to interact with well past the show."
She continues her thoughts about her favorite shows and talks about the bigger picture and why she loves what she does: "The best shows are the ones where the band thanks you at the show's end and tells you how easy it made their job that night. That is the best feeling in the world and why I do what I do. Many of my favorite shows have been with local Philadelphia bands that you may not even know. I would be a fool, not to mention a show that changed my life. I met my husband doing sound for his band. We've been together for 25 years, and I still mix his band."
Barbara then shares a funny anecdote while doing monitors for the "Colonel Claypool's Bucket of Bernie Brains" tour at the Electric Factory. "I love Les Claypool's music and have mixed monitors for him several times at this club. This formation included Bernie Worrell on keys. The band was happy with the monitors, and the show was fantastic! After the show, Bernie walked up to my monitor loft with a big smile. He put his hands on both sides of my face and kissed me to thank me for the great sound. Some may have found that a bit weird, but I took it as I did my job well that night, so much so that Bernie felt the need to show his appreciation."
As far as changing the industry, Barbara wouldn't change a thing. "Quite honestly, I don't think I would. I have the best job in the world: mixing and teaching the next generation. Despite the technical challenges and exhaustion of working long hours, I love what I do. There has been a shift recently, primarily because of COVID-19, where people are sharing their knowledge and building more of a community. This was not the case when I started, but I think it has created a better work environment for all of us."
Barbara shares her thoughts on teaching: "Regarding teaching, it means sharing my knowledge and experiences to help the next generation have even more successful careers than I have had. One of the most significant points of pride I get is seeing a former student out there, in the real world, making a name for themselves, mixing major shows, or working in other aspects of the industry and just killing it. It's a great feeling for me. I love bringing them in to talk to current students so they can also share their stories and inspire the next graduates."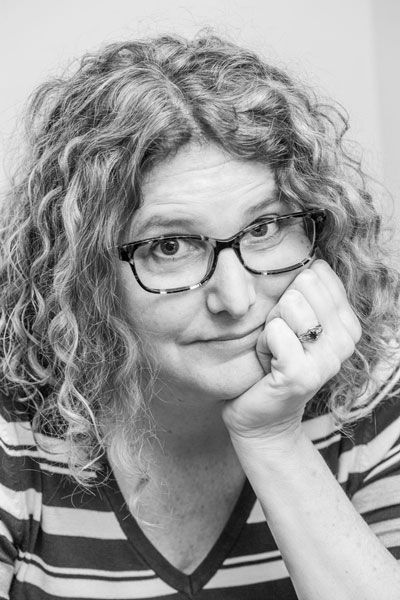 Last Comments
Wrapping up this interview, we wanted Barbara to share her final thoughts: "Thank you for this opportunity; it was fun to answer these questions and look back on everything. I love working with great musicians. I love inspiring students to learn. In the future, I hope to see a diverse community of people dedicated to making whatever they are working on the best possible. Whether they are working on a studio recording, mixing a live concert, broadcasting a program, recording on a film or television show, or developing new tools and gear for the industry- let's work together, lift each other, and learn from each other."