Story
L-Acoustics Concert-Level Audio Wows Residential Tech Pros at CEDIA Expo 
L-Acoustics Concert-Level Audio Wows Residential Tech Pros at CEDIA Expo ...
The immersive power and performance of L-Acoustics' residential audio portfolio were showcased at the CEDIA Expo 2023, complete with live demonstrations and an intimate, immersive "Listening Lounge."
Our expert team demonstrated home audio solutions for stereo, multichannel, and outdoor in dedicated areas, showcasing how installers can bring the professional audio sound experience to customers' homes.
"CEDIA Expo 2023 is a pivotal event for our residential division as we expand our partner integrator base globally, and 2023 has been a very busy CEDIA for us already," commented Nick Fichte, Director of Sales at L-Acoustics Creations. "Our residential solutions leverage the vast professional audio expertise of L-Acoustics, faithfully recreating that immersive and engaging 'live' experience in and around the home. This offers architects, specifiers, and integrators a fresh new approach to the premium residential installation market."
The dedicated "Listening Lounge" demonstrated how L-Acoustics pushes the boundaries of spatial audio reproduction in the home with a 7.1.4 system of L-Acoustics Creations loudspeakers and amplifiers. Powered by the new 16-channel amplified controller, the LA7.16i, the system features the potent X8 coaxial driver loudspeakers for LCR, with surround and height channels using X4i coaxial point source speakers, offering wide axisymmetric dispersion yet delivers up to 110dB maximum SPL. System bass comes from multiple L-Acoustics Syva 12″ bass reflex subwoofers.
The stereo demo area featured the recently added Soka colinear source loudspeakers and a pair of SB10r subwoofers, all mounted discreetly in-wall and powered by an L-Acoustics LA4X (4 x 1000W) amplified controller. Soka is a colinear technology column loudspeaker that provides the home with a compact, high-power, high-SPL (130dB). With a baffle of just 1065mm tall x 99mm wide and an installation depth of under 100mm (4″), Soka can be fixed on-wall or flush-mounted in-wall for the most discreet high-power installations.
The Syva colinear source loudspeakers, each partnering with a Syva Sub 12″ bass reflex subwoofer and powered by an LA4X (4 x 1000W) amplified controller to produce a maximum SPL in excess of 117dB, were also demonstrated for indoor or outdoor use, along with the compact IP55-rated X4i loudspeaker partnered with the similarly IP55-rated SB10i subwoofer. Together, they can deliver open-air audio far beyond traditional garden systems disguised as planters and rocks.
L-Acoustics's presence at the show was a major success: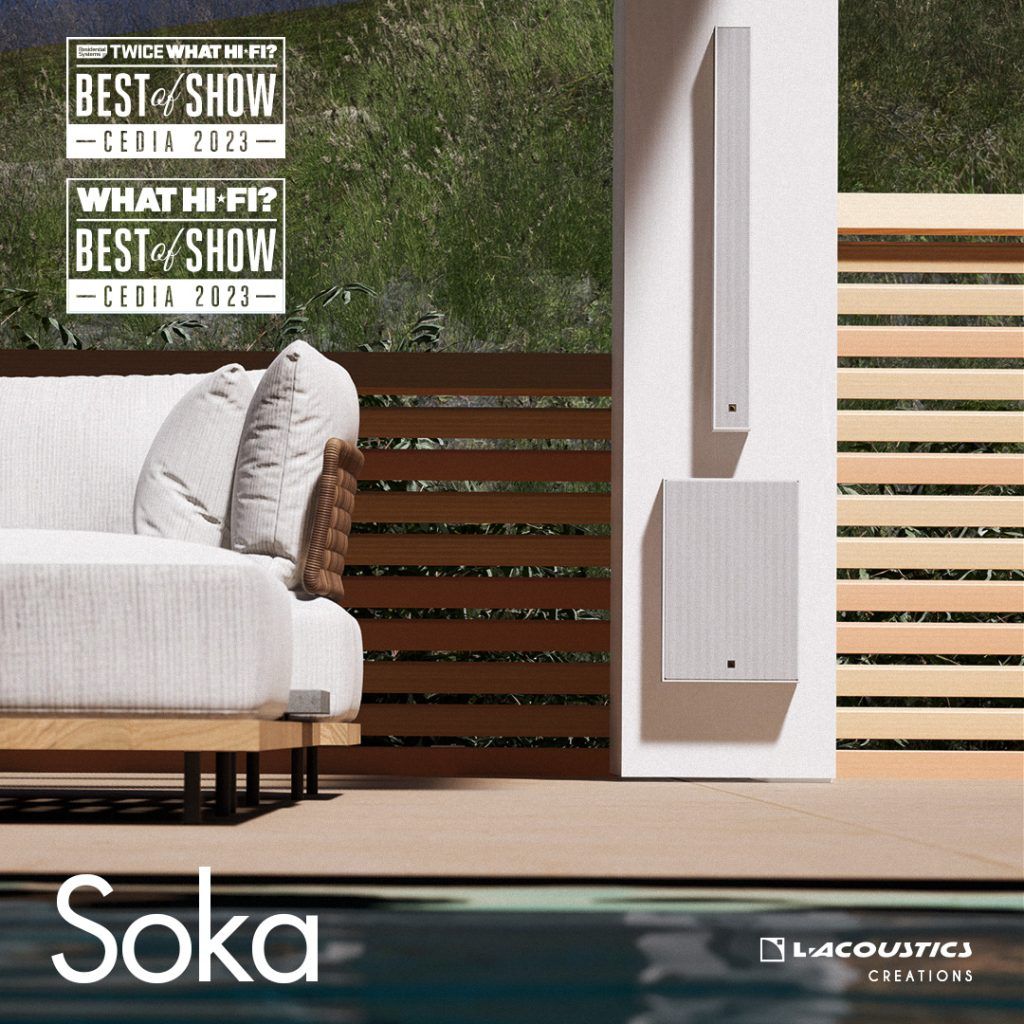 Most importantly, the discreetly designed yet powerful Soka colinear column loudspeaker won CEDIA Best of Show for Residential Systems and What HI-FI?! Soka has impressed those on the residential side with its ultra-shallow profile, unlocking new audio possibilities for those who don't want to compromise their sound when focusing on the visual aesthetics of their home, office space, or yacht.
Soka integrates nine 3.5″ MF drivers and three 1″ HF transducers to impart a wide 140-degree horizontal coupled with a highly controlled 26-degree vertical directivity. Its ultra-shallow 3.9 inches/99 millimeters is designed to be easily enclosed in-wall or discreetly mounted on-wall, yet it is capable of tremendous power and bandwidth, ensures intelligibility over distances, and its combination of power and bandwidth is far greater than what typical column speakers offer. ​With Soka, you can definitely bring the concert home.
Check out more rave reviews about L-Acoustics from the CEDIA Expo!