Story
David Byrne, Fatboy Slim, and L‑ISA Make Headlines with Disco Beats and Political Heat in 'Here Lies Love' Broadway Revue 
David Byrne, Fatboy Slim, and L‑ISA Make Headlines with Disco Beats and Politica...
Rave reviews from the press are streaming in about how the power of L-ISA technology is transforming the Broadway disco-pop musical
---
Described as an untraditional disco-pop musical, Here Lies Love is a colorful narration of the life of former Philippines First Lady Imelda Marcos. The production, filtered through a disco ball lens, tells the story of her beginnings from a declining-in-wealth family to the wife of president-turned-dictator of the Philippines, Ferdinand Marcos. "Talking Heads" frontman David Byrne, who collaborated with Fatboy Slim on the show's disco-pop score, penned its indelible music and lyrics, telling the story of Imelda's decadent lifestyle and bejeweled nights on the town, which starkly contrasts against the Philippines' widespread poverty. Notorious for her callous spending (including a lavish wardrobe with an infamous 3,000 pairs of shoes) and jet-setting lifestyle, Imelda ruled alongside her husband until they were airlifted out of the country in 1986 following two decades of corruption, scandal, and human rights abuses.
Here Lies Love is a technical marvel of a production that awes and provokes emotion—both sympathetic and troubling—throughout its 90-minute runtime. The first of its kind on many fronts, supported by an all-Filipino cast, the show is a flutter of movement, dance numbers, and splashing lights as wheeled stages are moved into different configurations around the main floor, masterminded by Set Designer David Korins. Teams of ushers outfitted in Barbie-pink jumpsuits and reflective glittery makeup use glow stick batons to move the floor audience around the reconstructed Broadway Theater as the platform stages literally move with the story. All the while, cast members weave through the crowd to perform dramatic anthems and theatrical dance-offs. Matching ambient lighting by Justin Townsend sets the production aglow with bubblegum pinks and cerulean blues. The view from the traditional mezzanine seats allows for a more encompassing view of the impressive choreography.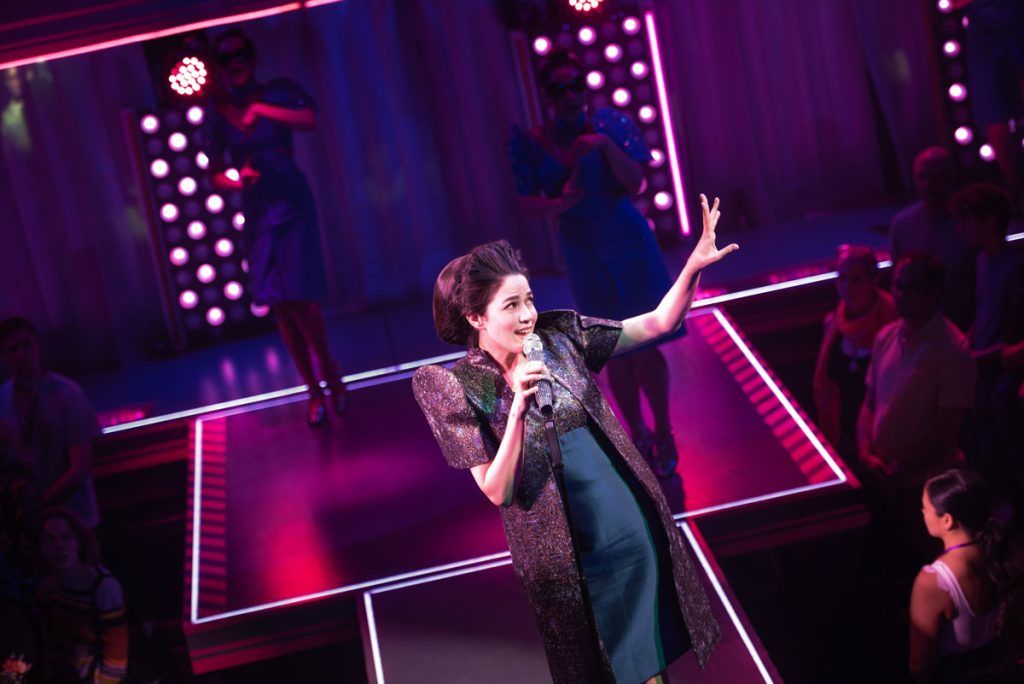 But what makes Here Lies Love—a title derived from the convicted former first lady's desired epitaph—even more extraordinarily immersive—is the sound.
The first Broadway show to implement L-Acoustics' immersive L-ISA technology, Here Lies Love utilizes 220 L-Acoustics speakers separated into six zones to give audience members a sense of being submerged in the music from all directions—a feat made even more difficult by the unorthodox Broadway audience seating setup. Co-Sound Designers MuTTT (M.L. Dogg) and Cody Spencer worked on the show's immersive sound, utilizing L-ISA to its full advantage for the first time ever in a Broadway theater setting. Cody Spencer noted, "It was important to give people up in the mezzanine sound moving all around the audience," a feat typically unheard of in most theatrical productions, let alone any Broadway production.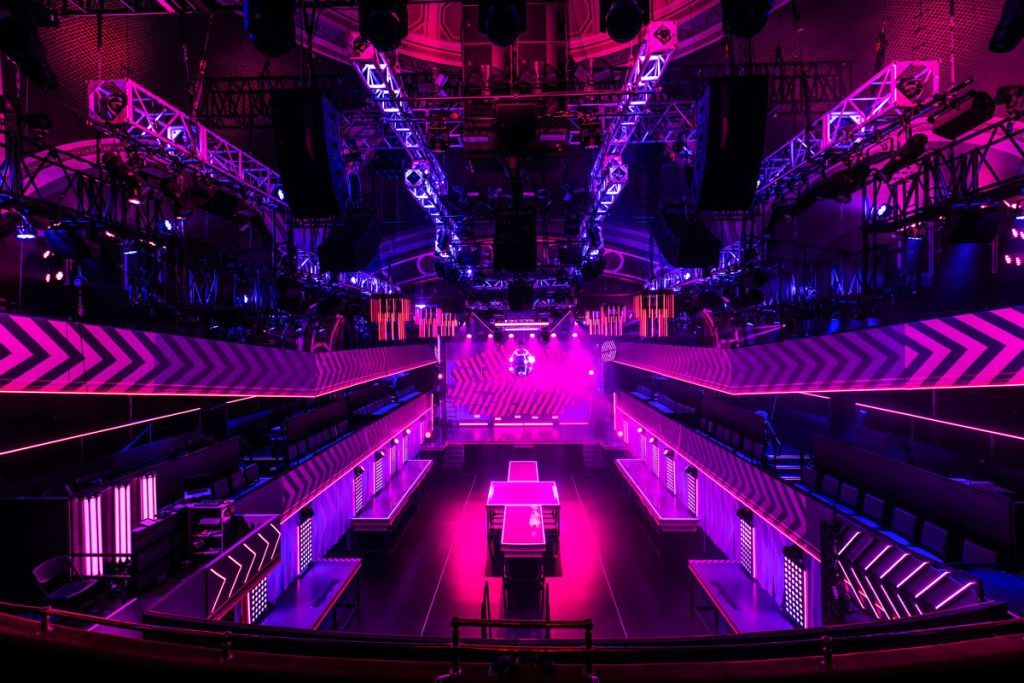 In a "Creating with L-ISA" interview, Spencer marvels at the show's sound and the L-ISA technology: "The fact that you're watching this immersive show that's a disco, whether you're standing on the floor where the sound is all around you, or you're sitting up in the mezzanine – you're really feeling like you're encompassed, and you're a part of the show as opposed to 'there's a proscenium here, and I'm watching the show down there.' You look around and are like, 'How did they do this?' Just to be standing on that dance floor and hearing the voices come at you. Whether they're localized, whether they're encompassing—whatever it is, the sound comes at you. It's just amazing. I've had nights where I've teared up a little bit just listening. I couldn't have done this if it hadn't been for this technology. And the amount of time we spent doing this is well worth it in the end. It's just amazing that we were able to get here with this."
David Byrne speaks directly about the sound during the show, "There's a number of points of the show where the actors—the singers—are in different positions during the same song. Imelda is on a platform," Byrne raises one hand high up to his right, "and Marcos is in a hospital bed," he outstretches his left hand and lowers it to show the juxtaposed position of the actors. "And he sings… and she responds."  
MuTTT (M.L. Dogg) notes, "You can watch the audience, and they'll hear the sound from behind, and they'll know that's the performer I need to pay attention to."
"And they do!" Byrne adds. "It's a big relief that the system can do that."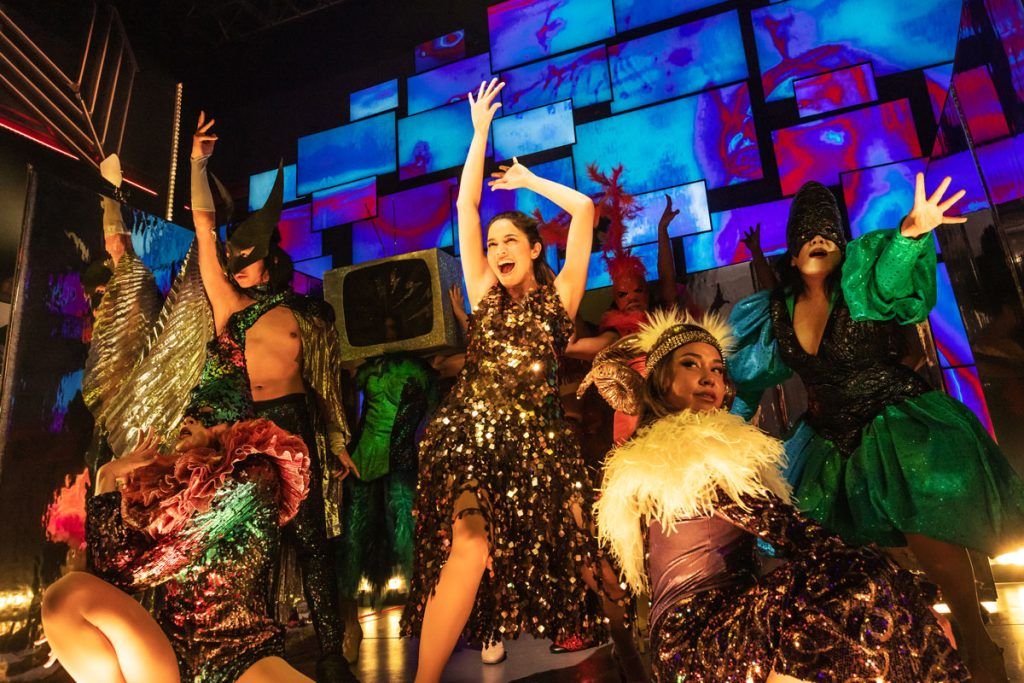 Quoted from Front of House Magazine: "Imagine a scene in which Imelda Marcos and her authoritarian husband, Ferdinand, belt out songs from opposite ends of the room. While physics might prevent you from being able to watch them both at the same time, your ears know exactly where their voices are coming from."
Other press articles and publications are taking note of the impressive immersive experience that is Here Lies Love:
"With the help of a French sound-tech company, 'Here Lies Love' achieves something completely different." – Fast Company
"The slow seduction of Here Lies Love (for which the reconstructed Broadway Theatre was transformed into a fully immersive space, with 900 seats ripped out to create a Studio 54-like environment and French sound-tech company L-Acoustics developing a sound ecosystem with five sound points across the stage to create a true 360-degree experience) is similar in a way to the staging of the Jonathan Demme-directed Stop Making Sense, which begins on a sparse stage and then continues to populate with each song." – Yahoo
"The production uses every level and corner of the massive space, with cast members singing and dancing… More than 220 speakers comprise the bespoke spatial sound system from L-Acoustics for the same immersive experience throughout the theater." – Village Voice
"L-Acoustics' L-ISA spatial sound system sonically tells the story as well, with more than 220 speakers to convey the emotions, drama, and rock-pop theatrics that take place throughout the musical." – NME
"The overhead audio was able to track the actors in a way that became seamless. I tried to "catch them out," but almost every time, the actors were where the speakers told me they were." – CNET
"Thanks to an innovative set design by David Korins and the use of L-ISA, a state-of-the-art form of spatial sound technology produced by French audio manufacturer L-Acoustics, [Arielle Jacobs is] able to sing and dance her way beyond the Broadway Theatre's stage and onto its mezzanine and balcony." – Huffington Post
Developed and directed by Alex Timbers (Tony Award winner) and choreographed by Annie-B Parson (Olivier Award nominee), Here Lies Love played sold-out runs at The Public Theater, London's National Theatre, and Seattle Rep. Broadway ticket buyers can now experience this critically acclaimed "poignant story about the fragility of democracy" in two ways: seated or standing immersed within the action. Tickets are still available here.