Press Release
L-Acoustics Creations Returns to EI Live! to Demonstrate Immersive Audio For Premium Home Installation
L-Acoustics Creations Returns to EI Live! to Demonstrate Immersive Audio For Pre...
FARNBOROUGH, UNITED KINGDOM – September 13 & 14 – L-Acoustics Creations returns to EI Live! for the third time to demonstrate the power of the brand's professional audio technologies applied to premium home and yacht projects.
Headlining the L-Acoustics Creations stand will be the new Soka loudspeaker, demonstrated for the first time in the UK. Bringing the same colinear source and wavefront sculpture technology of the flagship Syva model to an even more compact design, with fixed and in-wall variants.
At just 99mm wide, 99mm deep, and just over 1m tall, Soka unites nine 3.5in MF drivers and three 1" HF diaphragm compression drivers in a colinear configuration that uses the same constructive interference physics of a line array design. The result is a compact and discrete loudspeaker with very high SPL capability (124dB / 60Hz-20kHz) and an exceptionally wide horizontal/narrow vertical dispersion pattern. By reducing vertical output, a colinear array minimises reflections from floors and ceilings, further improving clarity and articulation for entertainment applications.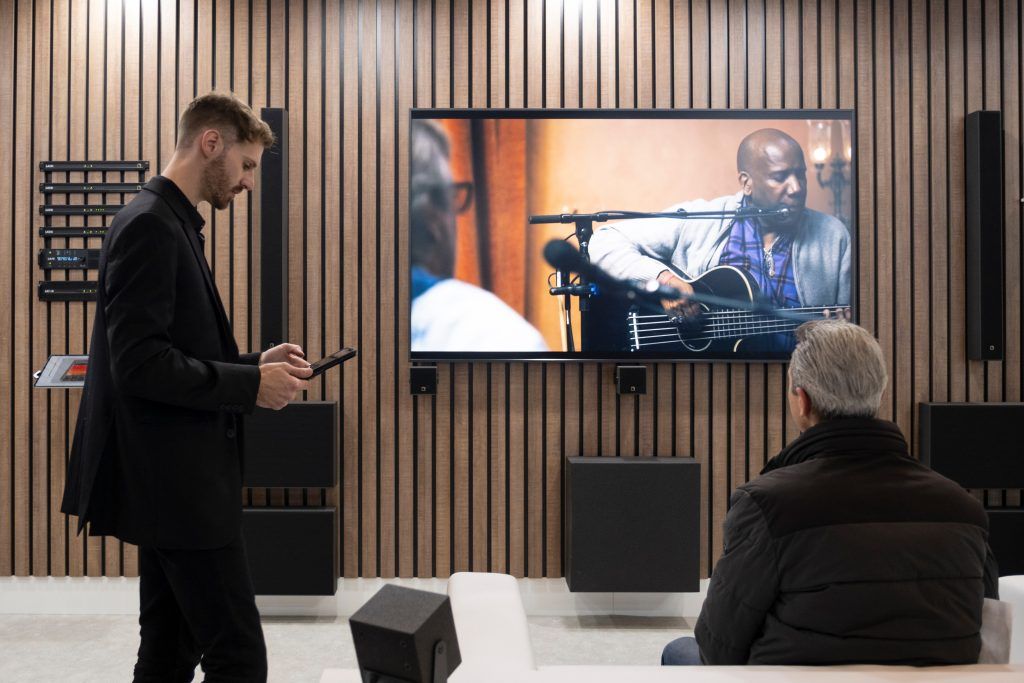 Soka will be partnered with the new SB6i subwoofer, also making its UK debut at the UK's premier residential AV installation and smart home integration trade show. The SB6i is an ultra-shallow dual 6.5" sealed-enclosure subwoofer designed for on-wall, in-wall or discretely hidden installation. The 99mm installation depth and 532x360mm baffle offer exceptional installation flexibility from flush mount in-wall or in-ceiling, to slotted under furniture or cinema seating. Like all L-Acoustics Creations loudspeakers, both Soka and SB6i are available in grey-brown or pure white, or any RAL code colour.
Further expanding the installation flexibility of existing speakers in the L-Acoustics Creations range, EI Live! will also unveil the X4r and SB10r; recessable versions of the best-selling X4i compact coaxial loudspeaker and the SB10 subwoofer. 
"L-Acoustics Creations is celebrating the growing success of our residential audio business in the UK with our largest-ever stand at EI Live!," says Nick Fichte, Director of Sales at L-Acoustics Creations. "We are unveiling two completely new loudspeakers in the UK for the first time as well as showing new in-wall versions of our two most popular fixed installation designs. For a truly immersive audio experience, we will also demonstrate our Fiji 5.1 system – an ultra-compact 5.1 loudspeaker system with close to 5,000W of amplification."
Fiji 5.1 comprises five X4i coaxial speakers for point-source precision and the ultra-compact SB10i subwoofer. The system can be fixed or wall-mounted as standard, or fully integrated into the architecture of the room with the new X4r and SB10r in-wall versions. The system will be driven at EI Live! by a pair of L-Acoustics LA2Xi amplified controllers, each capable of driving 4, 2 or a single channel with increasing power (up to 2550W @ 4ohms) depending on bridging configuration.
For an exclusive demonstration or interview with L-Acoustics Creations at EI Live! Visit https://www.l-acoustics.com/events/ei-live 
L-Acoustics Creations can be found on Stand 84, EI Live 2023, Farnborough Exhibition Centre, 13-14th September.