News
L-Acoustics A15i Offers New GSU Convocation Center a Sound System as Flexible as the Venue Itself
L-Acoustics A15i Offers New GSU Convocation Center a Sound System as Flexible as...
The 42-enclosure A Series system controlled via QSC Q-SYS is instantly reconfigurable to shift between event mode, for graduations and concerts, and sports mode for basketball
---
ATLANTA, Georgia – December 2022 – On September 15th, Georgia State University officials cut the ribbon on the school's new Convocation Center in the Summerhill neighborhood of Atlanta. The new multipurpose 200,000-square-foot, state-of-the-art facility on the site of the former Atlanta Braves baseball stadium seats up to 8,000 and was designed to accommodate a wide range of events, including conferences, commencements, graduation ceremonies, concerts, and sports—most notably basketball as the new home of the Georgia State Panthers men's and women's NCAA Division I teams.
A venue this flexible needed a sound system equal to the task. It found one in the A15i loudspeaker from L-Acoustics, 42 of which use both Wide and Focus enclosures to guarantee precise coverage at every seat—comprising a sound system configurable for any occasion. System design and specification were performed by Idibri, a Salas O'Brien Company, while the system installation and integration was accomplished by Athens, GA-based Technical Services Audio Visual (TSAV).
"It's essentially one sound system that can operate as two separate sound systems," explains Ben Boeshans, Senior Consultant at Idibri. "There are clusters over the stage, court, and seating areas, and each is programmed to either fire or mute, depending upon the application. We designed in a QSC Q-SYS Core 510i as the control system, and the configurations and switching are programmed using the L-Acoustics Q-SYS plug-in, which offers streamlined, native control of the amplified controllers and loudspeakers. The entire system can be reset as needed at the push of a button."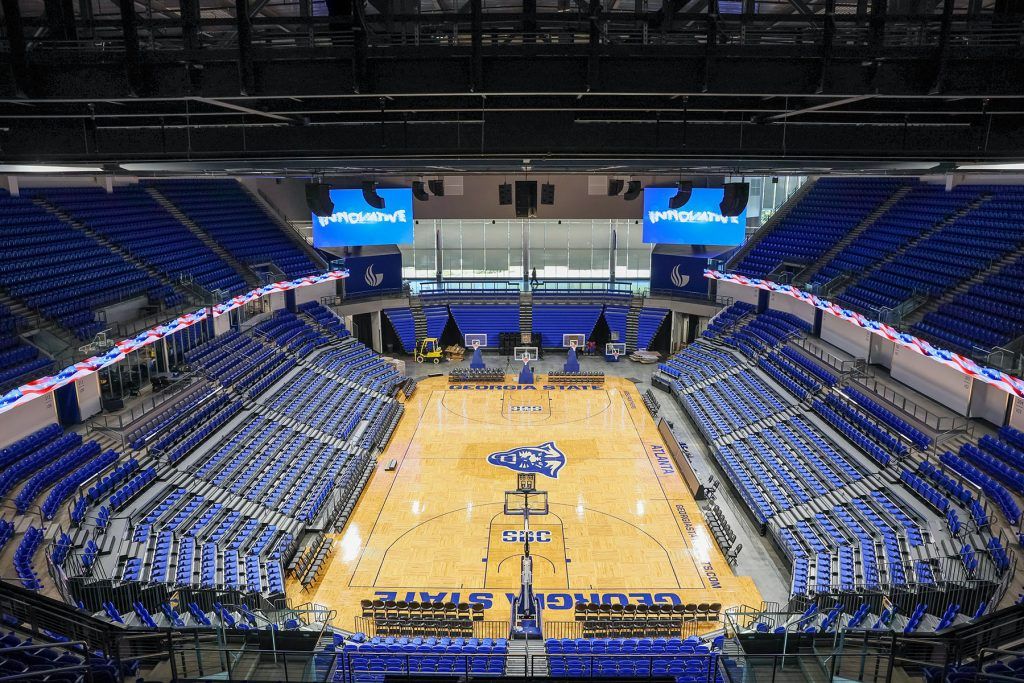 And what a system it is. The 42 A Series loudspeakers are deployed in hangs designed for either "event" or "sports" modes. The former comprises two main forward-firing arrays of four enclosures each over the stage, buttressed by two three-enclosure side-fill arrays. Coverage to the seats furthest from the stage is accomplished with five delayed arrays.
In the "sports" mode, those delay speakers become five of the eight main arrays covering the seats for basketball. These are either two- three- or four-box arrays, depending upon the configurations of the seating areas they need to cover.
In addition, there are four KS28 subwoofers hung over the center court as two hangs in a dipole configuration. The subwoofer design, says Boeshans, directs the sound to create an ellipse that more uniformly covers the seating areas. In total, a dozen amplified controllers power this remarkably flexible system: 11 LA4X and one LA12X.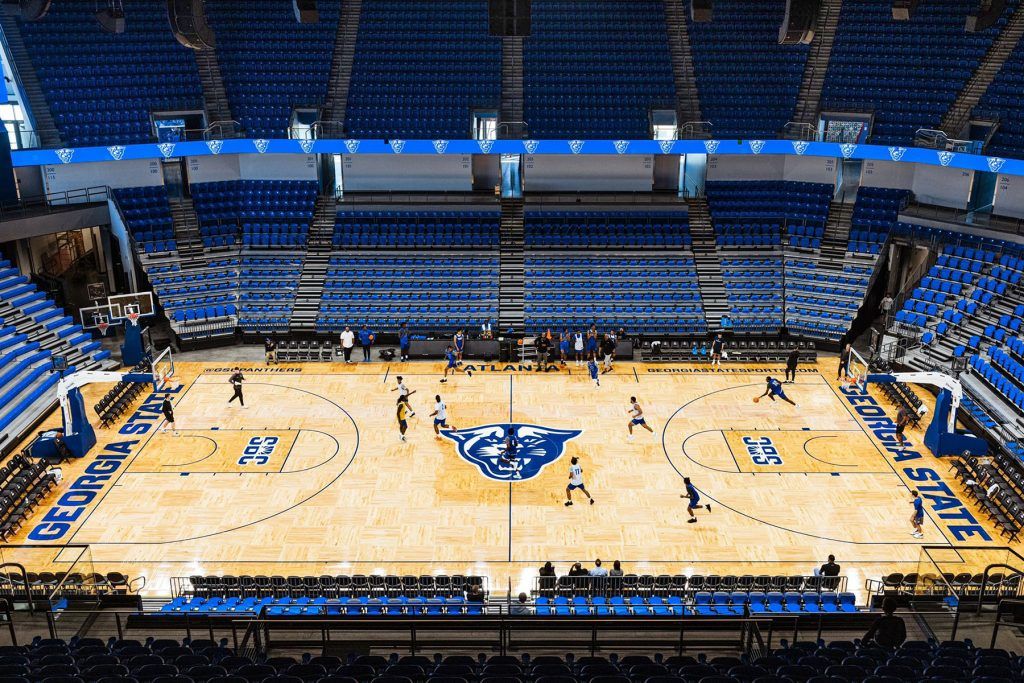 "We chose the A15i first and foremost because it's a great-sounding speaker," he says. "Sound quality always comes first. But the A15i has a number of other advantages that made it the right choice. For instance, it goes down low enough so that you're getting plenty of low-end impact even before the subs kick in, which means we don't need as many subs as you might with another speaker. And that's on top of the A15i already being a speaker with a great balance between performance and price, so it's cost-effective. Plus, we have the choices of the Wide and Focus options to optimize the dispersion patterns and get consistent coverage. All in all, the A15i is the right choice here because it gave us everything we needed."
That flexibility of directionality was also high on the list for Carter Ross, Quality Assurance Agent, and Integration Specialist at TSAV. He cites both the Wide and Focus options, and the Panflex user-configurable waveguide directivity (70°, 110°, or 90° asymmetrical). "We had a modification at one point late in the installation process and had to change the orientation of some of the waveguides on the fly, and it was remarkably easy and precise," he says. "There were a few areas of seating that needed to be covered indirectly in order to not interfere with sight lines. The ability of those waveguides to be adjusted and offset the coverage pattern so easily was crucial to keeping the project on schedule."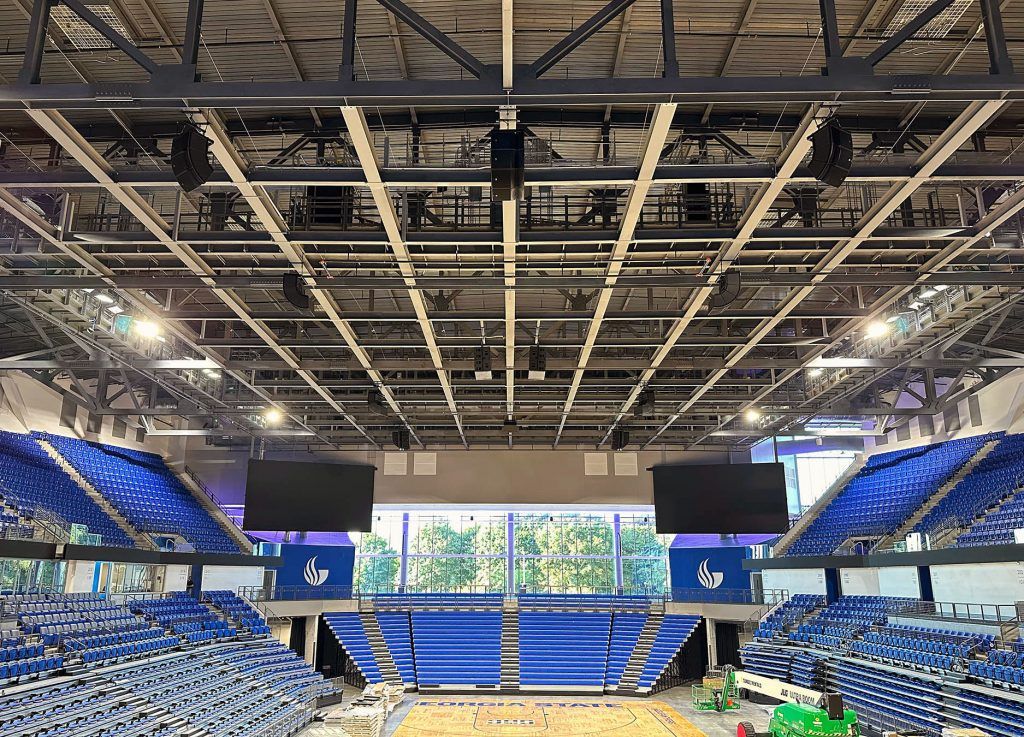 Ross also cites how easily the A15i is to work with for installation, noting its compact form factor and lightweight paired with its impressive power. "They're easy to hoist and gang together, and there's a ton of headroom in the system, which means it stays clean all the time, at any volume," he says.
One other point to note: the Georgia State Convocation Center was TSAV's first project with the A15i. "And it was a genuinely pleasant experience," he says. "I hope we'll be using it a lot more in the future."
For more information on GSU's new Convocation Center, visit https://facilities.gsu.edu. Idibri and TSAV can be found online at www.idibri.com and www.tsav.com.