Story
Women in Pro Audio: Paula Andrea Hernández Coral
Women in Pro Audio: Paula Andrea Hernández Coral...
Interview
Women in Pro Audio
"I love that a live event's artistic and technical components combine to create an incredible experience for everyone – and each show is unique and different every day. I love music and seeing so many talented people making beautiful and badass sound!"
---
Surprisingly, even in 2023, women are still sometimes underestimated or overlooked in various industries. This is why we're delighted to showcase the many talented women working in live sound and pro audio. As Katherine Johnson, mathematician and one of the first female African-American NASA scientists, said, "Girls are capable of doing everything men are capable of doing. Sometimes they have more imagination than men."
Meet Paula
Introducing Paula Andrea Hernández Coral, a multi-talented sound engineer and monitor technician who does everything from patching to front-of-house and mixing.
When Paula was a young girl, she wanted to be a doctor. "The idea of being a cardio surgeon and having a beating heart in my hands fascinated me."
Despite her interest in palpitating anatomy, Paula ended up learning music and became a classically trained pianist. Along with her twin sister, the two girls got involved with the musical world from age four, and both went to a music conservatory throughout their primary school years. "Something I am eternally grateful to my parents for! Naturally, we both went to music college and got music degrees. She's a badass drummer and a music scorer. I love doing videos of music covers with her. Fun fact, we both have perfect pitch, and I have been training myself to learn frequencies when listening to them."
Originally from Colombia, Paula moved to the US after getting her Bachelor's in Music at Universidad de los Andes in Colombia and living in Germany for a few months. She then studied at Tennessee State University for a Master of Fine Arts in Recording Arts and Technologies.
"When I was studying for my Master's, I did an internship at a company in Nashville where I got the opportunity to be a part of festivals and concerts for local venues. I learned some shop work through all that. From that company, I moved to another, and little by little, here I am – working with great companies and great people! I probably wouldn't have been in the live industry if I hadn't done that internship. Because in my head, I wanted to do studio work instead. But after the first load-out of my life, I thought about how rewarding the whole experience was after all the hours of non-stop physical labor. I love live sound now!"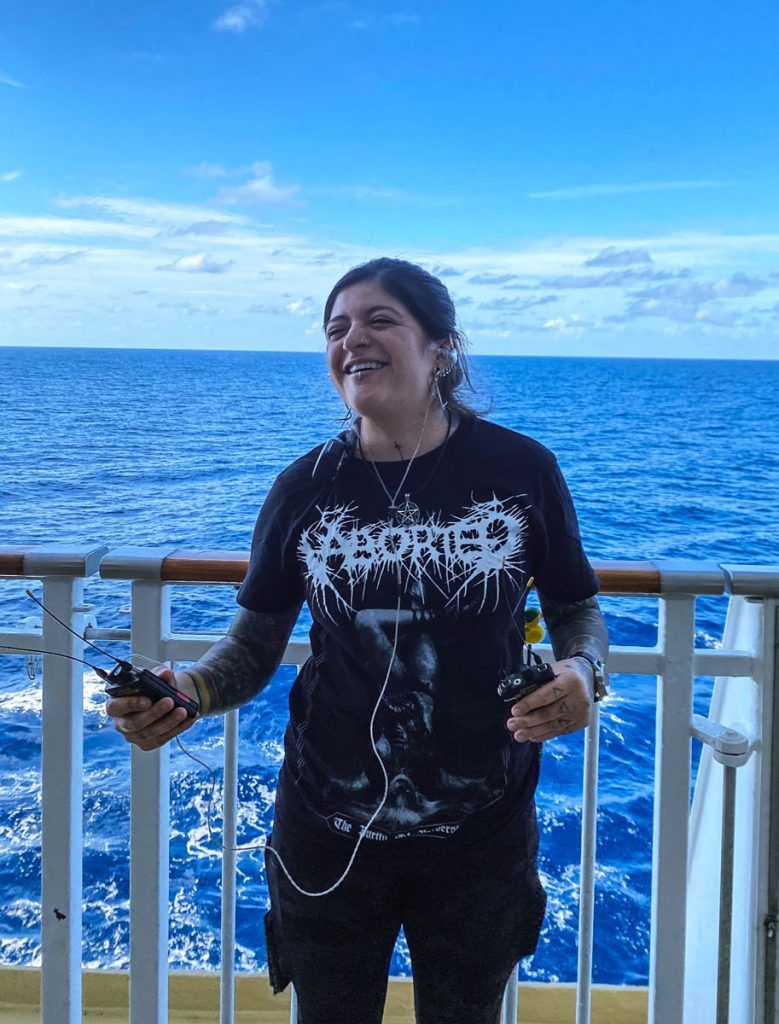 Challenges
Paula believes that she shares the same struggles as many others working in audio: "People don't always believe in your work ethic or your skills and knowledge. But I've learned to be more aware of my surroundings on the field. Any wrong step can cause a lot of accidents or damage."
When Paula hits a challenge, she advises, "It's important to take a breath and focus. Go step by step, and think carefully about what's happening and what needs to be done. Sometimes I fail with this and freak out, then I stop, or someone stops me, then I breathe and continue. Challenge after challenge, you learn, either the easy or the hard way, and you get better. As a woman, I hit that challenge of not being as physically strong as most of the guys on the crew, and I constantly need help lifting or moving heavy gear. But stagehands are thankfully always there to help, so it's not a big issue. Regardless of gender, there will always be someone stronger or weaker than you."
She also feels that on-the-job training and industry education should be more accessible. "If I could change one thing about the industry, I would want more training for everyone, especially those just starting in the field. This is a very hands-on job, and we get most of our education during work, but it's essential to have some training before a gig to have a more smooth load-in/show/load-out every time."
Advice
"In this industry," Paula says, "we meet all kinds of people who communicate in various ways. You may find some too aggressive, social, or uncomfortable, but never take anything personally. The day it actually does get personal, that might not be the best place to stay. So move on to a better place with better people."
The best advice Paula has received is the following: "Freedom and happiness come with a big responsibility, don't take them for granted." And "You get mad, you lose." And even though there have been times Paula has felt like giving up; she hasn't. "Here we are still kicking butt. I'm very thankful for that advice and the words of those who encouraged me to keep going."
For tech advice, Paula suggests, "Understand a very clear concept of signal flow. Once you have that, any setup, any console should be much easier to work on and use. Remember, we are audio engineers, not visual engineers. We should know how to mix with our ears, not with what the Real-time analyzer says, and let's leave that for time alignment and system tuning. Always be bold and ask questions or ask for help, and take advantage of the opportunity to learn something new and improve."
Language Barriers
Regional phrases and colloquial language can often be a hurdle for many multilingual people when on the job. Paula recounts how much this has simultaneously been humorous and a headache. "In my personal experience, communication is one of the biggest challenges I face, and it happens more often than I'd like. English is my second language, and up to this day, I'm still learning new words and their meanings. I have made mistakes due to misunderstanding what I was asked to do. But day by day, I'm getting better at that."
For the humorous part, Paula shares a funny anecdote about language barriers. "One day during my internship, my boss says, 'When we get back from lunch, we're going to sweep the speakers.' We get back to the shop, and the first thing I look for is a broom! I found one and got very excited. I go to the speakers and ask my coworkers, 'Is there a specific way I should sweep them?' Everyone started laughing. I didn't know sweeping the boxes meant testing them and going through the frequency spectrum! I now know what that means," she says with a wink.
Why She Does It
When you ask someone why they do what they do for live shows, many people have similar answers about the thrill of the show, the excitement and chaos, and the adrenaline rush. And while Paula shares those sentiments, she especially marvels over all the diversely talented individuals who come together to build these fantastical events and create something beautiful and exhilarating.
"I love that a live event's artistic and technical components combine to create an incredible experience for everyone – and each show is unique and different every day. I love music and seeing so many talented people making beautiful and badass sound! On the top of my list, I love mixing salsa, industrial, and heavy metal shows. I also love working at festivals of all kinds and on cruise ships or resorts in the Caribbean. And the production of some of the tours I've been part of has also been awe-inspiring."
Paula recounts one of her favorite memories working on a show: "When I did sound for one of my favorite industrial bands, Grendel, the band was so happy with the outcome of the sound, and the audience loved the show. I thought it sounded so good! After load-out, I went back home and cried tears of joy. I couldn't believe I was part of such an amazing experience for everyone there."
Future-Proofing Tech
As for the future of live events, Paula hopes for more efficiency with the tech and processes: "I really hope the daily show load-ins and load-outs get lighter, easier, and smoother as technology advances. Especially for me, as a woman, the 'lighter' aspect would be really great!"
We hope so too, and we can't wait to see what the future holds for sound technology. We see big things on the horizon.
To listen to Paula's musical talents, check out her YouTube channel!