Story
Women in Pro Audio: Eva Reistad
Women in Pro Audio: Eva Reistad...
"I love music because it's a language, a therapy, a medicine, and it always has been. Every day I get to play, and not a lot of people get to say that!" Eva Reistad
---
L-Acoustics has interviewed some phenomenal women in the pro sound industry over the past year. What started as just one International Women's Day interview with Hyacinth Belcher, the accomplished industry veteran and co-owner of Onstage Systems, soon quickly turned into a monthly interview series that focuses on and showcases a few of the many talented women in this pro audio industry.
And now that we've come full circle to another International Women's Day, instead of filling a page with empty platitudes or sharing generic quotes that fall flat with banality, we're keeping the momentum going with more interviews from real, phenomenal women in this industry.
This month, we're checking in with the uber-talented freelance music and score mixer and producer, Eva Reistad. An audiophile and sound scientist whose diet consists mostly of pizza and long hours in the mixing studio, Eva has worked alongside clients such as Hans Zimmer, Coldplay, Madame Gandhi, Charli XCX, Steven Tyler, Pharrell, Miley Cyrus, Britney Spears, and more.
Meet Eva
When asked about what she wanted to do when she was younger, Eva was extremely candid with her trajectory. "Honestly, I didn't really know that working a job in music was even a possibility for someone from a small town in Northern Minnesota. Most people I knew were slated to go to University to become doctors or lawyers—or some other business-orientated career. It wasn't until I went to a band camp where they had an audio program during my junior year of high school that I realized I would love to record music and make money doing it! I have always been a musician, but I didn't really want to play music for a living—or rather, I didn't even think it was possible for me. My dad knew an audio engineer in Minneapolis, so we went to his studio to get a tour and talk to him about audio engineering.
"It was game over for me. I looked around and knew it was all I wanted to do. I was going to record bands for a living! I remember sitting through the last few months of high school, counting down the days until I went to audio school. Then I was counting down the days until I would go to New York or Los Angeles and become a 'big record producer.' TRUE STORY. You can ask any of my friends," Eva says with a wink and a smile.
In 2011, Eva received an internship at the Nightbird Recording Studios underneath the Sunset Marquis in Los Angeles after meeting the studio owner's brother, Oliver Lieber, in Minneapolis while interning for a band of one of her teachers. "The rest is sort of history!" she says. Eva has since then worked on records such as deadmau5, Avril Lavigne, and Tiesto, and film scores for movies such as Dune, Mulan, Wonder Woman, 007 – No Time to Die, Aquaman, Captain Marvel, and a whole lot more.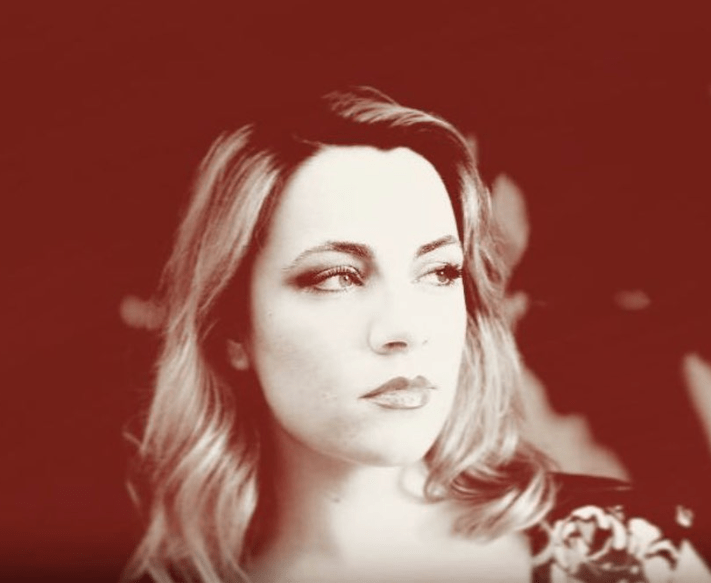 Work Challenges
"The struggles I've faced has a long, long list. From personal to professional, becoming a successful audio engineer in any sense is extremely difficult. I think I've struggled a lot with having the confidence to find my voice as a producer/engineer."
Burnout is also real. One of Eva's biggest challenges in this industry is maintaining a balance of mental and physical health while dealing with the crazy work hours. "I love what I do so much that I sacrifice things like taking care of myself mentally and physically when a big project is happening for days or weeks on end. Continuing to hone your craft and constantly learning is very important in this field, so being physically tired can mentally take a huge toll on you. That's how I know I'm close to burnout: When I don't even want to sit in front of Pro Tools. It's extremely challenging for me to take an afternoon and do nothing, but the older I get, the more I realize that balance and life experiences OUTSIDE of the studio can be so beneficial. It gives you a bit of breathing room, and you're able to have that fresh perspective when you're working INSIDE the studio. I hit a point where I didn't want to work, and I didn't want to take time off. So, I just started running! It's helped a lot."
Then, of course, there are those unique challenges as a woman. Often, being nice can lead some people to think you're interested in them romantically, or the mere fact that you're a woman makes you fair game to be asked out on dates. "It's sad to say, but sometimes you can get undermined because they either feel that a woman shouldn't be so good or rather better at the job than them. I don't deal with that kind of stuff anymore at this point in my career. But it used to bother me a lot when I first started."
Everyone Needs a Support System
Whenever Eva hits a challenge, she talks with her friends and colleagues. "They're my rocks in all this… my entire career. Whether I'm having a mixing problem, a money question, or a political situation with a client, the people I work with have seen it all. I have many close friends who are either higher, equal, or lower in experience than me. Last year my assistant on a mix said, 'Eva, you need a reason to live outside the studio. Go home, do something fun.' Even that was a wake-up call for me to stop working endless hours. It was great and much needed. When I have a mixing or technical question, I'll often ask the people who have more experience than me."
Her favorite professional resources are also her fellow engineers and colleagues. "We constantly send each other new plugins, new mixing tips, send each other our mixes, etc. They have all the good secrets (I guess they're not so secret, ha!) that we collaborate on to improve."
Her First Big Album
"I assisted Miley Cyrus' studio album, Bangerz, about ten years ago. That was so fun because Miley is my age, and that record was her first big one sort of out of Hannah Montana land, so for some reason, I felt like I could relate to her with me just moving out to LA and her breaking off from Disney. I was just starting out, and I got to hang out in sessions for weeks and weeks and observe the engineers, writers, and producers. The crazy thing is, Miley and I were around 20 at the time, and I was in awe of how confident a person she was in a studio full of guys. I mean, of course, she had been famous for years at that point, but she had such a vibe that inspired me to have a voice in the studio. No way she'd know who I was today, but I have my platinum record from Bangerz still hanging in my studio!"
Film Scores
Eva also loves working on film scores. She recounts her most recent work on the movie, Dune: "It was a really crazy adventure. I worked on that movie score across the span of a whole year! A few months on the score, while Alan Meyerson mixed and I assisted, then about a month and a half where I mixed an extra hour (or more) of additional music that legendary composer Hans Zimmer wanted to release called The Dune Sketchbook. We mixed the score and Sketchbook for the Dolby Atmos release for Apple Music which was extremely fun! Dune overall was such an incredible piece of film work across the board, so it was a huge honor being able to contribute a small bit of that. Any movie I work on is really just so fantastic. I also love working on scores with my friend Jess Weiss who is killing it right now!"
Working with L-ISA
In 2020, Eva got the chance to work with an L-ISA system for Why The Musical, the biggest musical at Dubai Expo 2020, in the Al Wasl dome. "I had been dying to get my hands on an L-ISA system for a while. So, having the opportunity to work on what I believe to be one of the largest immersive experiences in the world was just so amazing. It clocks in at 27.1 speaker channels, and it's basically a massive circle of sound with a stereo sound truss in the center. So, keeping in mind the science of sound traveling while mixing can be a challenge.
Al Wasl was the literal and figural crux of Expo 2020 Dubai. The plaza and dome connected all corners of the expo's massive 1,083-acre campus. The massive dome rises more than 221 feet at the center of it all, creating an open-air lobby that doubles as the world's largest 360-degree projection theater.
"The musical was a collaboration between the world-renowned artist and composer AR Rahman and well-known director Shekhar Kapur. This was an amazing career highlight for me, and the process of getting the music mixed in a massive 360 environment was pretty insane—in a really good way! AR Rahman (like most typical music geniuses) works around the clock. The team actually got on a schedule of working about 7 pm to 9 am because the only time the L-ISA suite was open to mix was in the evenings. Then we had the chance to review our mixes at 6:30 in the morning in Al Wasl before the expo opened.
"Martin Dineley did most of the mixing into the L-ISA system, with help from Scott Willsallen, who designed the system. I mainly suggested things for him to add reverbs to, how to place certain elements, and volume changes for mixes (I provided him 44 stereo mix stems). Seeing the musical live as thousands of people watched was an incredible experience that I'll never forget. It was a visual and sonic masterpiece for sure."
Advice for Other Women
Eva's advice to other women starting in the industry is, "Don't be afraid to try and don't be afraid to fail. I've seen many men jump at opportunities even if they're not ready for it, more so than women. I think women tend to be a little more conscious of what people think of them. I know this is not true for all people; it's just what I've witnessed.
"Also, don't be afraid to make mistakes, don't be afraid if you get judged for not knowing things, don't be afraid to get yelled at. All these things have happened to me, but you will prove yourself through your work if you love what you do. Live and learn, work super hard, and have fun doing it. Oh, also, drop your ego at the door. Always."
Feeling Blessed
"I love the music and the people," Eva says. "I love music because it's a language, a therapy, a medicine, and it always has been. Every day I get to play, and not a lot of people get to say that! And any time anyone tells me I've had a positive influence on them is really big for me, whether from working on their music or helping them out in their career."
As for any moments that have stuck out for Eva in a good way, "Well, there are so many! But, I have to say that some vocals I sang made it into the Aquaman movie on a few cues for the score. When I went and saw it with my friends in a packed theater, we heard my vocals coming out during an action scene, and we all screamed and cheered. That was pretty amazing, knowing millions of people have heard me sing and that I helped bring that emotion to the scene."
The Future of Sound
When asked about the future of pro audio, Eva jokingly remarked, "Well, we will all be living in some weird 4D type of ambisonic simulation at some point. I just hope the systems playing back time their delays correctly. I'm kidding, of course. But truthfully, I feel that the future of sound has arrived, so I hope it matures in a way that's inclusive to the industry as a whole."
---