Press Release
Polish Streaming Sensation sanah Takes L-Acoustics L-ISA Hyperreal Technology on Tour
Polish Streaming Sensation sanah Takes L-Acoustics L-ISA Hyperreal Technology on...
Accompanied by a full orchestra and choir, the star embarked on a national tour with a flexible L-ISA system to complement every venue
---
Poland – April 2023 – Spotify sensation and leading Polish pop star sanah recently embarked on a tour of Poland's most prestigious concert halls, accompanied by a full orchestra, choir, and guest performers. Sanah burst onto the international scene two years ago when her music went viral, breaking records on Spotify's streaming service. The tour was her first using L-Acoustics L-ISA Immersive Hyperreal Sound and featured her usual band, accompanied by the Polish Film Music Orchestra and 30-member Silesia Chamber Choir Ad Libitum.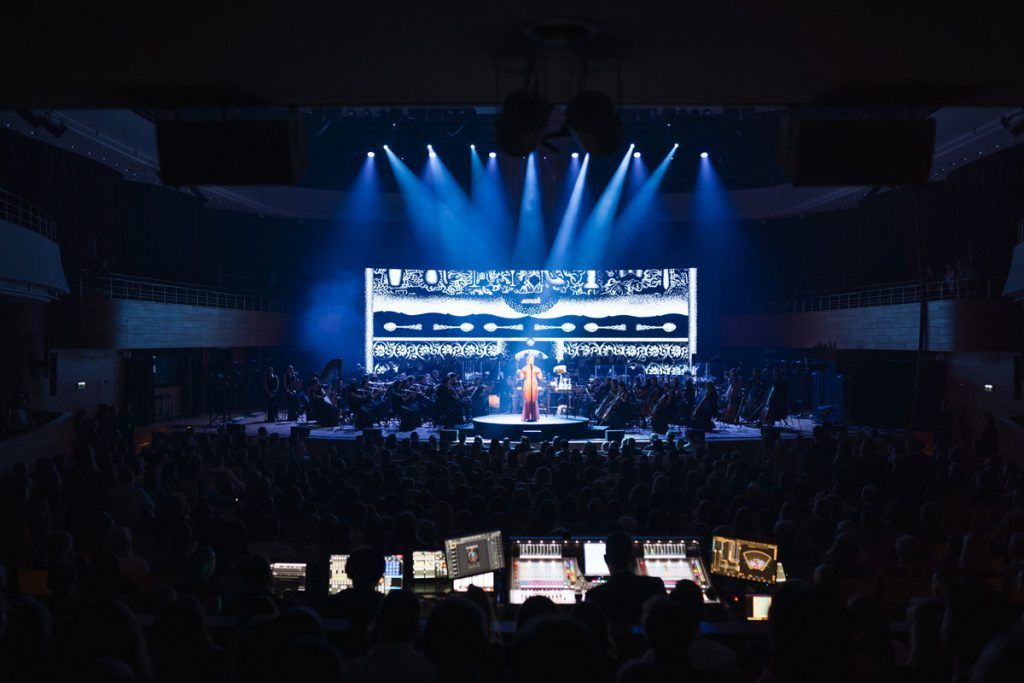 "The idea to use L-ISA spatial technology was conceived at the end of sanah's 2022 summer tour," explains sound engineer Piotr Puchalski. "I was intrigued by the progressive nature of the technology and went to L-Acoustics' headquarters in France for a series of training sessions. The more I explored L-ISA, the more I began to realize just how advanced this technology is. Rather than simply providing high-powered LR sound coverage, it's possible to provide something much more sophisticated. Not only does L-ISA provide exceptional sound, it can also evenly cover the entire sound space so that every audience member gets an immersive audio experience. I simply fell in love with the possibilities on offer for the next tour."
Puchalski, along with system engineer Jerzy Kubiak of Audio Plus, a local L-Acoustics distributor, designed the audio system for the tour, creating models for the halls in L-Acoustics Soundvision software and designing the optimal system configuration for each. Supplied by Shadok AV Group, the team made the decision to specify L-Acoustics' Kara cabinets for the main arrays, which would be used as the basis of the system at every event. Kara is powerful enough to meet the required SPL levels and delivers system efficiency across every venue. In smaller venues, Kiva or A10 cabinets were used for the main hangs.
In bigger venues, such as in Kraków, Wrocław, and Poznań, five arrays of nine Kara plus two arrays of seven Kara were allocated, with six SB18 and four KS28 subwoofers for low-end reinforcement. Nine X8, two A10, and eight X12 speakers were used for front-, balcony- or side-fills, all available for placement where needed in a scalable format. Additionally, the L-Acoustics P1 Milan AVB processor with its built-in M1 measurement platform was used to calibrate the system, sending signals to LA12X amplified controllers. The choice of cabinets for each show was based on the predictions in Soundvision software.
"Soundvision software was crucial in helping us to decide on the choice of cabinets for Scene and Extension, and about the wiring method, throughout the tour," explains Kubiak. "The benefits of connecting each cabinet independently, compared to using four zoning groups per array, were too small when you take into consideration that we would have to double the amount of cables and extend setup time. So, we chose four cabinet zones in each Scene array. Thanks to Soundvision, I was able to prepare and repeat the same sound system performance and sonic contour in every venue."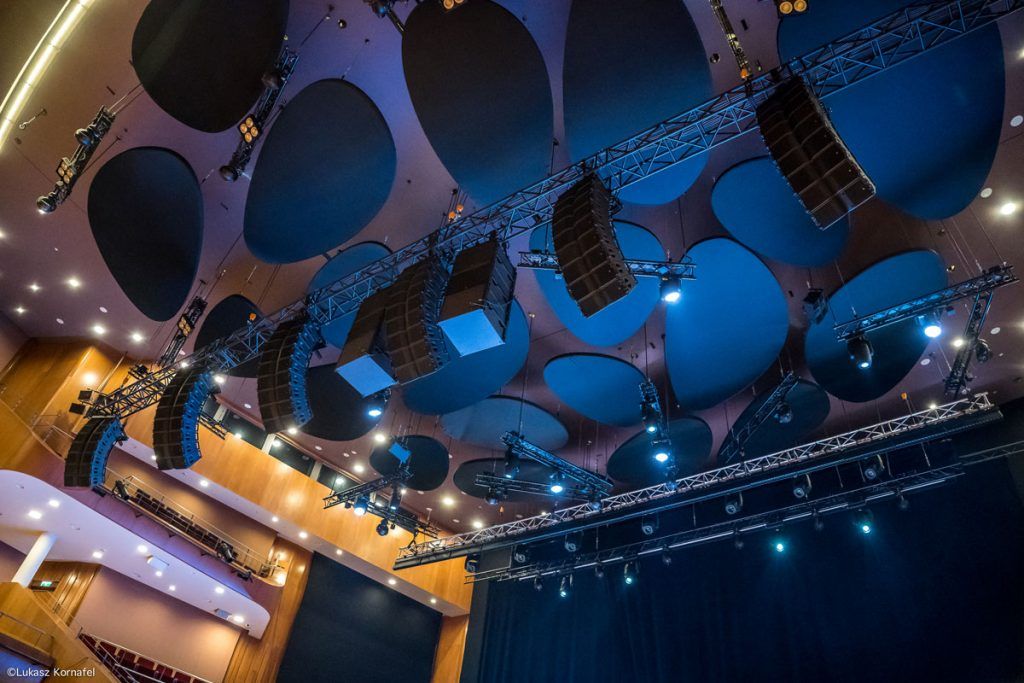 The sold-out tour visited key venues across Poland, including the National Forum of Music in Wroclaw, Cavatina Hall in Bielsko-Biala, which boasts an award-winning, permanently installed L-ISA system, National Polish Radio Symphony Orchestra Hall in Katowice, Poznan Congress Centre, Polish Philharmonic Hall in Gdansk, Krakow Congress Centre and the National Philharmonic Hall in Warsaw.
"Despite generating a huge input list on our first night, it soon became clear that L-Acoustics technology significantly simplifies and speeds up the entire mixing workflow thanks to the accurate and precise configuration process of L-ISA. I didn't expect the results to sound so perfect straight off the bat," recalls Puchalski. "From the engineer's point of view, the system provides excellent coverage of the entire sound space, with great intelligibility and no interference due to the multiple source areas. The mixing process is much easier with the ability to 'fit' all the instruments in the mix. However, the greatest achievement of the system is the wow effect it gives the audience, who can experience sound circulating around the venue and instruments moving between individual speakers – it's incredible."
L-ISA technology helped the audio team to create a faithful picture of sanah's live show from start to finish. It also gave them new creative tools such as effect returns, reverbs, and delays that helped to enhance the acoustic space. Feedback from both the tour team itself and from sanah's fans have been unequivocally positive.
"Banquet at sanah's was an excellent production to work on, with orchestral arrangements and the most modern, immersive sound system, all skilfully combined," concludes Puchalski. "I really feel the time of immersive audio systems has arrived. They are no longer just solutions for multimedia installations, museums, or musical theatres but are also excellent tools for live music reproduction. After this eye-opening tour, there will always be something missing from a classic stereo concert system for me."