Press Release
Eraserheads Rock A Massive Reunion Concert with L-Acoustics K Series
Eraserheads Rock A Massive Reunion Concert with L-Acoustics K Series...
Forscink Inc. delivers a world-class concert sound system for 75,000 "Eheads" fans
---
MANILA, Philippines – May 2023 – Since forming in 1989, the Eraserheads have recorded seven studio albums, four of which have gone multi-platinum. Dubbed 'The Beatles of the Phillippines,' the Eraserheads, fronted by charismatic vocalist Ely Buendia, disbanded in 2002 but continued to tour, staging a series of reunion concerts across the globe throughout the mid-2010s. Almost three decades since the 4-piece alternative rock outfit's inception, and 13 years since its last large-scale reunion, Eraserheads recently took the stage at the SMDC Festival grounds in Parañaque, Manila, performing for a legion of 75,000 fans in an enormous open-air concert. The show was a multi-sensory concert that included pyrotechnics, a holographic projection of the late Filipino rapper Francis M, and special guests performing live with the band.
Eraserheads frontman Ely Buendia unhesitatingly requested an L-Acoustics concert sound system for both on-stage monitoring and main PA systems. The band members, who have had successful individual careers, had experience working with Philippines L-Acoustics Rental Agent partner Forscink Inc. and trusted them to supply audio for this important reunion performance. Concert promoters WEU Event Management asked Forscink to design a sound concert system that would cover the vast concert area with a powerful audio system that would deliver clear, powerful sound – even over the pyrotechnics – over the planned three-hour show. Justin Santos, System Engineer at Forscink, worked with L-Acoustics application engineers to design the system.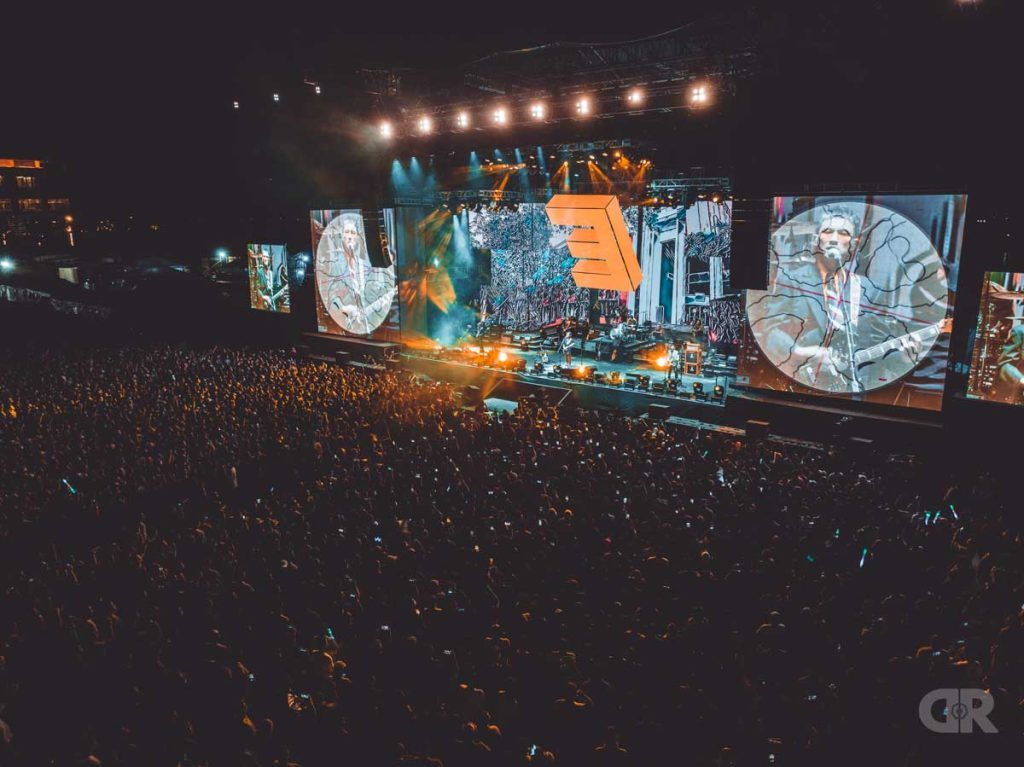 "A legendary rock band like the Eraserheads must have a loud, powerful system with great clarity," explains Santos. "We modeled many system options in Soundvision to find the one that would do justice to the timeless, nostalgic music of the Eraserheads." Concert Front-of-House engineer Sho Hikino and monitor mix engineer Xyron Ocampo were all familiar with L-Acoustics systems, which made for a smooth load-in and show management process.
The main PA system deployed for the concert consisted of 15 L-Acoustics K2 with four K1-SB subwoofers per side. Side-fill systems were delivered by 12 Kara boxes per hang on either side of the stage, while front-fill consisted of the twelve Kara enclosures. A pair of delay towers placed 90 meters from the stage carried 12 K2 and four K1-SB each, while a second pair positioned 170 meters from the stage carried nine K2 per hang. Twenty-four SB28 subwoofers delivered low-end rumble for the massive audience. A combination of LA8 and LA12X amplified controllers power the entire system. Forscink called on L-Acoustics Certified Rental Partners at PMX and Pro Beatbox to supply portions of the massive sound system.
"The sound system did not disappoint," concludes Santos. "Fans and organizers left the show happy and satisfied. I'm pleased with the consistency of tone between the K2 and Kara, which gave the audience the same listening experience from front to back. It was a spectacular night."