News
Women in Pro Audio: "KD" Krysten Dean
Women in Pro Audio: "KD" Krysten Dean...
Interview
Women in Pro Audio
"I also enjoy the day-to-day challenges of live sound and touring. I learned a long time ago that corporate was not my forte. I found myself bored with it, the pace for change could have been faster, and there were way too many meetings. I also felt like I needed to be more challenged." – KD
---
Only some people who have chosen to work in pro audio and live sound made that career choice early on. Like many others' lives, career paths aren't always paved with easily accessible roads and clearly posted directions. And this was certainly the case for Touring Sound and Systems Engineer Krysten Dean.
Meet KD
Krysten Dean, known as KD, works for Eighth Day Sound and Clair Global as a Sound and Systems Engineer and Crew Chief. From a young age, KD became fascinated with all the buttons, knobs, and faders on mixing consoles. "My interest in audio started when I was a kid in Church. I have always been curious about how things work, so I was fascinated with a mixing console, but I had no idea what to do about it back then. I only got my hands on a console when I was much older and became a volunteer on the tech team."
KD also had big dreams when she was younger: "I wanted to be the first woman in the major leagues. I also wanted to be a doctor—an orthopedic surgeon—and then I went to college and became a mechanical engineer. I come from a family of educators, so I didn't believe I could skip college and be a sound engineer. My path was quite delayed."
KD didn't have a typical, straight trajectory into the pro audio world. Her path took her into a different industry before she landed in pro sound. "I worked in the automotive industry for about eight years before I found myself with a full scholarship to Full Sail University in Florida and a job as a technical director at my Church once I graduated from Full Sail. I was miserable working in corporate America, and I was so passionate about music, but more so on the technology side."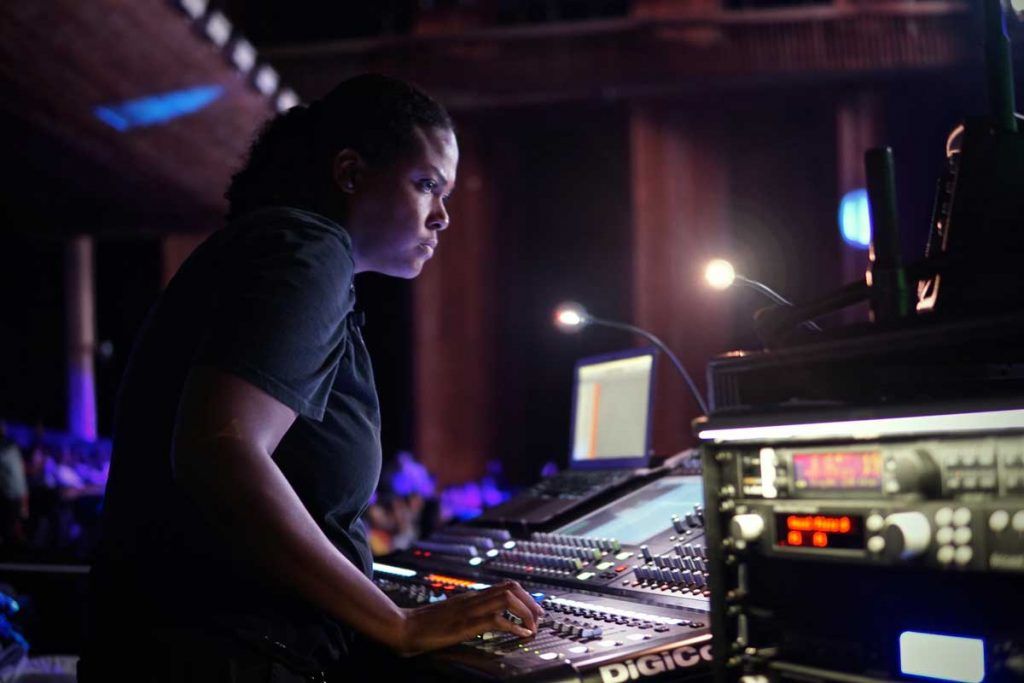 ---
Challenges
"So, I am a woman in a leadership position in this industry. I'm also a minority. To say there are challenges is probably an understatement. It has taken me a while to own it all. By that, I mean when you start out, you do a lot of questioning and second-guessing yourself. I think that's normal to some extent. Then as you stick with it and are exposed to many varying situations, you start to build your knowledge and experience base. Then your confidence tends to grow with it, and you gain more responsibility because others have acknowledged your skills and capabilities. So now, when I meet that 'old union guy' who immediately thinks my male counterpart is in charge and goes to him with questions, I can kindly and confidently redirect him and help get his questions answered and the needs of my team met."
As far as challenges go, KD looks to her unwavering faith, character quality, and ability to look at it from a different perspective: "I like to take a step back from whatever the situation is and try to get a look at the whole picture. I believe in Jesus and have a personal relationship with him; sometimes, I think that's my superpower! So, I also utilize my relationship with God and am constantly sending up prayers for guidance and direction. I also seek help from my peers when I have a challenge I have not faced before or a challenge in which I need help with how to proceed."
Advice & Tips
As a pro audio veteran, KD advises that finding a mentor is crucial for moving yourself forward in your career. "Find the right mentor, though. Someone you can ask those 'scary' questions to. Someone who has your best interest at heart. Someone you can also learn from. And understand that a mentor relationship is a two-way street. It needs to be mutually beneficial to both parties."
Her biggest working tip: "One thing that has saved me time and time—again—when issues occur is that one thing your teachers always say is important, but you're like, yeah… Ok. It's signal flow! Tracing a problem from beginning to end usually shows you where the issue is, and you can quickly move toward a solution. In touring, this skill can save your career."
She also does a lot of research on the internet regarding pro sound, which she credits has helped her professionally. "I watch a whole lot of videos. Sometimes I'll think about trying something or finding a better way of doing something, and I start asking people questions and doing the research. It has served me well in my career to develop relationships, and I have learned so much through many of those relationships."
Shifting Norms
One of the reasons we created this series is to shed light on the unique experiences of women working in this industry. Each woman's experience is unique to her, but the sum of all these situations presents a similar theme: women are often not seen as authority figures in male-dominated industries. KD has experienced this firsthand, but she found those situations empowering instead of disheartening.
"So, I'm usually sent out as crew chief on my tours. 95% of the time, my crews are all male. I can remember one particular incident when we arrived at a venue. I am usually one of the first ones in the venue because I have to scope it out, determine what quantity of PA we will be using that day, and what obstacles we may face when getting our gear in place. On this particular day, one of my techs came in early with me. Naturally, the local guys start inquiring about who is in what department so that they can give them the low down or get any of their questions answered. Well, I am off in the middle of the venue shooting the room, and the union steward approaches my colleague and starts asking him about what we need and want and what we require for the day. I remember listening and chuckling to myself as my teammate quickly told the steward, 'I am not your guy. You are gonna want to talk to her. She's the boss.' The look on his face when that was said! Deep down, that made my heart happy. I felt that I was respected by my team and that they trusted me with leading them—it was a great feeling for me."
KD also notes, "Touring is also still very much a male-dominated industry. As a result, you sometimes get treated as inferior or even invisible. I have had some problematic engineers and challenging situations, but at the end of the day, if I can say that I approached them with integrity, that is important to me. I firmly believe in possessing a strong character. My reputation is important, especially in this industry. Thankfully, the tide seems to be changing. I am seeing more women joining the industry—not only on tour but also in support roles in our shops."
Why She Does It
"As much as we want our gigs to be consistent from day to day, I enjoy the daily challenges. Ask anybody, I am a problem solver, and I love to come up with unique ways to get the job done. I think corporate America held me back and didn't allow me to use my creativity and technical skills. They tried to fit me into a box, and touring allowed me to be free and creative and accomplish a goal."
As a systems tech, KD gets to be in a new venue every day, which is part of why she loves what she does. "Each venue has its own qualities and challenges that I have to figure out quickly so we can have a show, usually that night."
She also meets new people almost daily, learns from them, and hears their stories: "I also enjoy the day-to-day challenges of live sound and touring. I learned a long time ago that corporate was not my forte. I found myself bored with it, the pace for change could have been faster, and there were way too many meetings. I also felt like I needed to be more challenged."
Family and Pride
Everyone has a moment within their careers, regardless of what they do, where they realize how proud they are of their work. For KD, having her family share in and experience her work was what really hammered in why she's proud of what she does—and why she made that transformative switch from corporate America to the wild world of live sound.
"I was in NYC for a while on tour, and I flew my Mom out to come and hang with me during my free time and then enjoy the show I was working on. I took her to a load-in, and I remember her asking me incredulously, 'You guys bring all this stuff in every day so you can have a show?' That was the moment that what I do for a living clicked for her and that it was not to be taken lightly. She also caught a glimpse into my tour family and knew I was well supported and cared for."
Another proud moment for KD was when she was mixing monitors for Stevie Wonder. "Again, my parents got to witness this. They came to a show and got to see me during the show mixing monitors for Mr. Stevie Wonder! I don't think they realized how big a deal that was until they saw me in action."
Also, for KD, getting noticed by the artists still amazes her. "I'm a fan of staying out of the way and doing my job with integrity. But it's crazy when you try not to get noticed, and eventually, artists call you out by name. It has happened a few times, catching me off guard every time!"
The most memorable show KD has been a part of was when she was the monitor engineer for Dr. Dre and Snoop at Coachella. "That was the year we did the hologram of Tupac as part of the set. The look on the faces of those in the crowd was rewarding. Especially knowing how much work the band and crew had put into it!"
The Future of Pro Audio
If KD could change anything about the industry, it would be: "Seeing more diversity in our industry, particularly in women of color. It provides encouragement when you see people who look like you and who are achieving things you didn't think you could do. I want to be that cheerleader or support system for others that look like me. I want to let them know that they, too, can do what I have done. Actually, they can do even more than I could! Although things are shifting now, I want to see even more diversity and inclusion in the future of live sound. I also want to see artists realize they have more power and influence to get more diverse crews working for them."