News
Inaugural Impact International: UK/EURO List of Industry Leaders
Inaugural Impact International: UK/EURO List of Industry Leaders...
L-­Acoustics CEO, Laurent Vaissié, is featured on this year's Pollstar and VenuesNow Impact International: UK/Euro list
---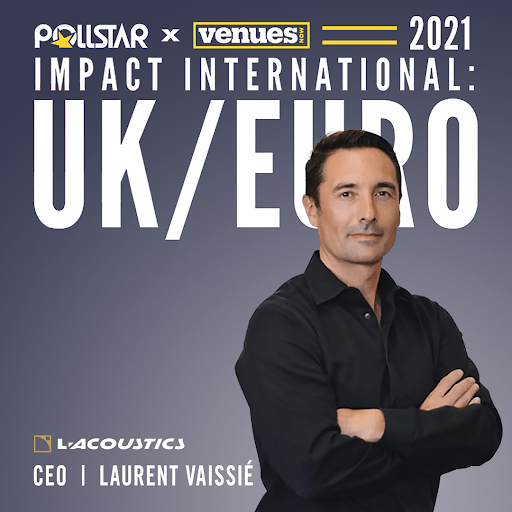 The current issues of Pollstar and VenuesNow just released their prestigious inaugural Impact International: UK/Euro list. Compiled by the Pollstar and VenuesNow editorial teams, and spearheaded by Pollstar UK/Euro reporter Gideon Gottfried, the Impact International: UK/Euro list represents individuals in the territory who have excelled in creativity, innovation, strategic management, financial success, leadership, artist development/career longevity, vision, fan engagement, consistency and commitment to excellence. Those chosen are industry executives who have made the most impact on the live entertainment industry while navigating the most challenging times the international live entertainment and venues industry has ever faced.
We're proud to announce that our very own L-­Acoustics CEO, Laurent Vaissié, is featured on this year's Impact International: UK/Euro list. 
"I am honored and humbled to be included in the Pollstar/VenuesNow Impact International UK/Euro list," comments Laurent Vaissié. "This accolade is really a reflection of the incredible innovation, dedication, and resilience that the L-Acoustics team has shown over the years for the live entertainment industry, including the very disruptive past 18 months.
"We are very fortunate that our teams are incredibly self-motivated, loyal, and passionate about our mission and their jobs. Although we revised our near-term objectives, we also laid out clear priorities and a long-term vision to consolidate our leadership position and expand into new market areas, which kept the team motivated and engaged. Together, we learned that it is critical to be strong in multiple segments and regions around the world. Our moderate but steady growth strategy, coupled with vertically-integrated European-based manufacturing and solid financials, helped us consolidate our position of 'safe harbor' for many of our customers and end-users," comments Laurent Vaissié on the past year and a half. 
As for the future, Vaissié makes note, "The challenges faced by our industry and community during the pandemic were a stark reminder that Culture is essential and live events are an essential part of the fabric of our society. As the urge to connect with others and experience live performances roars back, we see a strong rebound in live events activity even though restrictions are still in place in most countries. Looking into 2022 and beyond, I believe we can expect a diverse, even more intense era of live entertainment and innovation. L-Acoustics is ready for it, from communicating to a digitally connected world to immersive experiences and more sustainable entertainment models."
To read more about Laurent Vaissié's spotlight, check it out on VenuesNow.com.
---