Sports Arenas​​
Wells Fargo Center
20K Capacity
Indoor
K2 / K1-SB
Context
---
The Team
---
Only Concert-Grade Sound Will Do for Wells Fargo Center's $265M Transformation
Home to the NBA Philadelphia 76ers, NHL Philadelphia Flyers, and AFL Philadelphia Soul, Wells Fargo Center is one of the busiest arenas, hosting 250-plus events and welcoming more than 2.6 million fans each year. The venue was a few years into their $265 million upgrade initiative to re-invent their live event experience, including the world's first Kinetic 4K Center-Hung Entertainment System with TAIT. That mission also required another key element—delivering concert-grade sound to every seat in the house.
The Challenge
To give fans more incentive to leave their living rooms and come to the arena, Wells Fargo Center, along with the Flyers and 76ers organizations, aimed to set themselves apart with an acoustic experience that matched the excitement on the ice, court, and stage. The sound system also had to maintain sightlines while still delivering powerful, precise, and complete coverage. An added challenge was that the design, integration, and calibration would all have to be achieved without interfering with the venue's 365-day schedule.
The Solution

Because the venue is multi-use and requires frequent configuration changes, arena management based their audio system choice on the same criteria as that of concert touring—full-range musicality and clear intelligibility. Through the guidance of Diversified, they decided on the compact, lightweight, yet incredibly powerful L-Acoustics K2/K1-SB system because it addressed the top issues today's fans demand from sports venues—to experience world-class audio no matter where they're sitting.
Another solution was to fly the K2 and K1-SB arrays on custom rigging with motorized hoists. This way, individual groups of speakers could be quickly flown out to the grid, moved to out-of-sight for concert events, or dropped back into gameplay position with improved sightlines – unlike the arena's previous dead-hung clusters.
System pictures
The Result
The K2 System has been a massive win for the Wells Fargo Center. Fans are leaving great reviews online about the world-class sound and "pumped-up" energy at games and events. The arena's audio engineers love how flexible and easy K2 is to use for different events. "The L-Acoustics K2 system is truly a concert sound system, and that's what venue operators are looking for now," says Justo Gutierrez, Director of AV and Sound, Sports and Live Events at Diversified. Another insider on the project said that "everyone wants to look good with installations of this size. Whether it's for choosing a manufacturer or if you're the designer, integrator, engineer, or owner – L-Acoustics made that easy."
Wells Fargo Center landed at No. 9 on Pollstar's 2018 Year End Top 200 Arenas Chart based on ticket sales, with 843,744 tickets reported sold.
Project photos
With the K2 system, L-Acoustics was able to provide the power, coverage, and performance this installation needed within the project's budget guidelines. But just as importantly, L-Acoustics was also the choice of the exceptionally knowledgeable Wells Fargo Center operations staff.
Justo Gutierrez
Director of AV and Sound, Sports and Live Events, Diversified
Tech Brief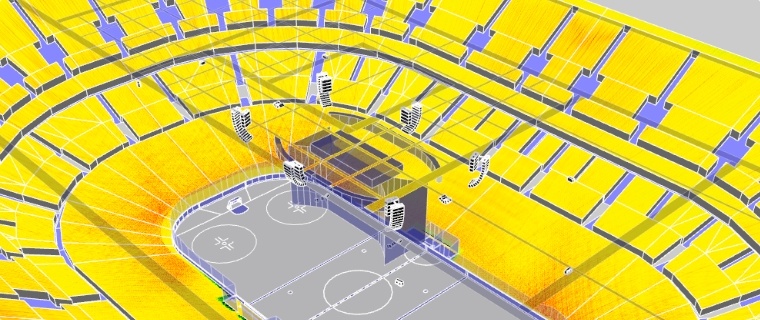 Two arrays of 12 K2 three-way, full-range enclosures cover are flown longways on each side of the arena, while 4 arrays of 13 K2 cover the ends and corners
Six arrays of four K1-SB subwoofers are flown behind each K2 array to support low-end impact and enhance low-frequency directivity
Two arrays of ARCS WiFo enclosures provide coverage across the bowl floor, each fill array composed of one ARCS Wide and three ARCS Focus enclosures
At the ends of the ice around the dasher boards, three more ARCS Focus sources are used as hockey fill
37 L-Acoustics LA12X amplified controllers and two LA4X power the entire audio system