News
Women in Pro Audio: Katia Sochaczewska
Women in Pro Audio: Katia Sochaczewska...
Interview
Women in Pro Audio
"I love working with people from the radio, the studio, and at live venues where I feed my need for an adrenaline rush. The world of professional audio is quite diverse." – Katia Sochaczewska
---
This December, our Women in Pro Audio series gets immersive. In this interview with a talented woman working in—and studying—spatial sound, we get an inside look into why multi-dimensional sound is the future of audio, and why it's so desired for various applications around the globe. From recreating the surround sound chamber of a traditional opera amphitheater for an outdoor space with Michigan Opera Theatre to immersing attendees at an art gallery exhibit in Seoul, Korea. Immersive and spatial sound is the future of audio and this lady knows it.
Meet Katia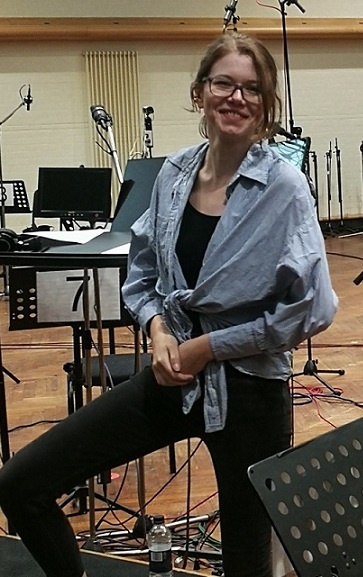 Katarzyna Sochaczewska, also known as Katia, is a Ph.D. student at AGH University of Science and Technology in Kraków, Poland, in the Department of Mechanics and Vibroacoustics. She researches perception within ambisonics technology and teaches the basics of recordings and spatial audio. Katia is also a part-time radio producer at RMF Classic Radio, where she does both on-air transmissions and post-production work.
Katia specializes in multichannel audio, leading to her involvement in ambisonics technology: soundscapes, IR measurements, and psychoacoustical research into spaciousness and localization. She is interested in surround and 3D music production and is committed to its ongoing improvement. She's received several notable awards for her compositions (AES Recording Competitions, Saul Walker Design Competition, and other 3D music production competitions). She is also a practicing engineer with experience in live sound and studio recording.
As a child, Katia would play music with everything she got her hands on—any instrument she could find; she'd play. Because of this passion, she was sent off to music school. "My interest shifted a bit towards science in high school, but I was developing a strong interest in sound in general. If I had to name some of the struggles that faced me, one would definitely be coming from a small town, where the opportunities were limited," she notes.
Later, at the University, she found herself lagging behind her student-colleagues. "I had quite a great deal of anxiety that I was not going to make it through the first year because I needed to keep up with so much. Other struggles I faced were very similar to everyone else's. Thoughts such as, 'was the career I picked the right choice?' echoed in my mind. I experienced some insecurities about my knowledge and skills. I still do, but there is a bit more self-trust built up at this point."
Getting into Immersive Sound
"I didn't really have a clear idea what I wanted to do other than just be in a creative sound-related environment. And I didn't know about ambisonics until the second year of my studies. But the moment I learned about it—it clicked." Katia started exploring spatial sound and multichannel audio in various ways. She'd mix binaural and ambisonic recordings with regular stereo and surround recordings and played with the production of multichannel systems, where the spatial aspect would already be a part of a composition. "I got extremely into that. I went to every conference and every competition I could find because that was the only way I could listen to more spatial stuff, compare workflows and ideas, and get inspired."
Being a Woman in Pro Audio
"I used to work in a jazz club, where sometimes there was a need to lift a heavy piece of gear, but no one expected me to do that all by myself. But on the flip side, I'm happy to see increasing numbers of girls in Acoustic Engineering courses. Fewer eyebrows are raised when you see a girl behind a mixing desk. For me, I feel that there are now more opportunities for women. For example, I was awarded a SoundGirls travel fund which allowed me to pay for my travel to the AES conference in New York, which I probably couldn't have attended otherwise. I'm very thankful for that."
Pushing Through Challenges
For Katia, if it's something related to science or anything else that requires practice, she pushes through, knowing that things eventually get easier if she does. "If it's more of a creative thing, I usually get myself exposed to different stimuli and try to see things from a different perspective. Often that means taking a few steps back and defocusing slightly, for instance, in a mixing or writing situation. And sometimes, just a day off does the trick. I'm learning that you don't need to deserve the rest—you need the rest."
The Best Advice
"Being anxious is pointless, no matter what; influence what you can, and don't worry about the things you can't. And I would give that advice to everyone I know, including myself from some years ago: you have to really try and live by it. Being confident is also really important. I'm still learning this and often need to remind myself. And I don't mean pretending that you know things when you don't, but a confident attitude makes people around you more comfortable—in the studio or on the stage.
"Learn to feel satisfaction from the simple tasks. It's not always going to be huge things you will work on, but it's still important to take pride in them. Lastly, try not to overthink. I've been held back because of it in the past because I was too worried that I'd do something wrong or about what someone would say."
What She Loves Most
Katia loves how much variety there is with her work in spatial audio. She finds it refreshing to be in different environments and work with different teams. "I benefit from all of those differences, yet there is a common ground to all of them. I'm excited to see the field that I decided to go 'all-in' with a few years ago, develop into so much more. I get tons of satisfaction from working with students and young composers on workshops. I love working with people from the radio, the studio, and at live venues where I feed my need for an adrenaline rush. The world of professional audio is quite diverse.
"I absolutely love working for the Film Music Festival, which takes place yearly in my city of Kraków! It is a magical time, where lots of people from different branches of the industry come together to exchange experiences, share and learn, and have a great time."
Katia initially attended the festival as a student, taking part in a recording session where elite sound engineers were invited to record the pieces composed by the Young Talent Awards participants.
"After a few years, I was invited to give a workshop on spatial audio technologies and tools, and I can't tell you how much fun it was and still is. It is one of the most rewarding things I do. There are so many people from different backgrounds, yet it still works like a jigsaw puzzle. Also, observing individuals such as Gavin Greenaway, Nick Wollage, and so many others at work is mind-blowing and really gives me that motivational push for months afterward."
Let's Talk About Ambisonics
The extraordinary mathematician, inventor, sound recordist, music lover, and poet Michael Gerzon studied and invented ambisonics technology in Oxford in 1970. However, it's not until recently that it's taken off thanks to VR and AR technology, binaural renderers, and multichannel speaker domes. "Described as a scene-based technology, compared to channel-based (stereo, surround) or object-based (L-ISA, Dolby Atmos) systems, it captures and recreates the soundfield from one particular point in space. It's flexible because the encoded ambisonic signal can be decoded for a wide variety of system layouts. It's a good tool for scientific research on perception, and it forms the basis of my doctoral thesis," Katia describes.
"A few years ago, I started digging more into the possibilities of ambisonic speaker playback system through creating musical content. I used the ambisonic recordings from our base (there are a few really cool projects running at my University, one of which is analyzing the soundscape of the North Pole region) and added musical layers. I entered a competition in Germany, where there was a huge dome of speakers, and we would listen to all the selected pieces. It was the very first time I heard my composition outside of my little lab and the first time an audience heard it. It was quite stressful, but at the same time, really exhilarating and gratifying. The system had four subwoofers which made it possible to perceive the movement of the 'heartbeat' that I had implemented into my piece. It was all stressful but amazing!"
Live Music is Back
According to Katia, she sees a bright future for pro audio. "Maybe there will be more hybrid options, like the trends we observe in other industries. I'd love to see the spatial aspect of audio introduced into the process of creating content. I'm excited to experience the merging of technologies in that way. For example, what L-Acoustics and the YouTube Theater are doing! I hope that recording studios will still be a thing in the future, despite the trend for home recording and home production. People just can't live without live music and connection."