House of Worship​​
Yonsei Central Baptist Church
Context
---
The Team
---
Korea's House of Worship Gets a Sound System Makeover
Founded in 1986, the Yonsei Central Baptist Church, sitting on 32,677 sq. m., and holding worship in their 13,000-seat hall, is one of Asia's most impressive Houses of Worship in Seoul, Korea. The sanctuary's single balcony occupies three floors of the hall yet has no visible obstructions, allowing parishioners to enjoy an unobstructed view of the service. Always at the forefront of leveraging technology to enhance the worship experience, Yonsei has a deep history with L-Acoustics. In 2005, they were the first Church in Asia to install V-DOSC.
The Challenge
Park Byung Jun, sound director and system engineer for Yonsei, specified the need for a new system that would provide better speech intelligibility. The new sound design goal was to cover the audience area without the need for under-balcony systems, guaranteeing a clear view for the audience. "The acoustic environment is challenging, especially the dome shape of the ceiling and the audience amphitheater. Making a clear sound has always been a challenge for us," said Park Byung Jun.
The Solution
When L-Acoustics launched K2, which features Panflex directivity control, the Yonsei team decided to optimize the main hall's sound system further with the new loudspeaker. Using K2 would create more headroom for the system and provide consistent SPL distribution over the entire audience. Park said, "Sound for music has never been a problem in the main hall, whether a big band or a small ensemble performs. The issue has always been with speech. Also, our pastor has a small voice, which makes matters worse. We wanted to rectify this with the upgrade to K2."
System pictures
The Result
The upgraded set up of K2 allowed them to lower the system to cover the under-balcony areas while maintaining a uniform SPL and frequency response coverage on the balcony. Providing more decibels than the V-DOSC system, K2 provided more SPL right to the back of the hall.
Project photos
As a long-time L-Acoustics user, we love the delicate yet powerful quality, which is ideal for the great variety of genres our venues support. Whether it's a concert hall or an outdoor stage with tens of thousands of people, we know L-Acoustics will provide true and reliable sound.
Yang Chao
Audio Director, Shaanxi Grand Theater
Tech Brief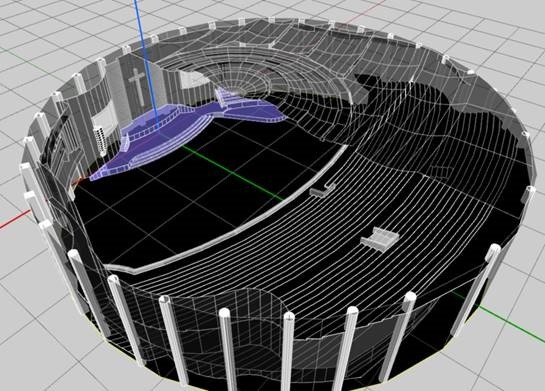 A total of 16 units of K2 speakers have been deployed on the left and right side of the LED display wall in the main hall replacing the K1/Kara arrays deployed in 2011 
Six 8XT speakers were deployed around the main hall to serve as delay speakers for speech only